---
CD Reviews: Princesses, Animals, and Grandkids Rock!
The Battle Hymn of the Princess revolution, animal songs that inspire eco-consciousness, and rock'n'roll that will have granddads and grandkids dancing make up this round of CD reviews.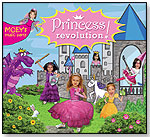 Title: Moey's Music Party- Princess Revolution!
From: LEMONADE PRODUCTIONS
Gender: Girls
MSRP: $15.00

TDmonthly Rating:




WHAT IT IS
This 15 track album is the second release from Melissa Levis, who performs under the pseudonym "Moey." The CD is a celebration of girlhood that focuses on independence, without shunning the pink and sparkly style that has become ubiquitous in girlworld.

WHAT WE THOUGHT
The CD preaches "We haven't found the hero that we are waiting for/It's the song inside us/We are princess hear us roar!" and Moey does indeed paint a picture of strong and independent girlhood throughout the album, beckoning her listeners to join the "Princess Revolution."

The songs throughout are up-tempo; each high-energy track practically begs to be danced to, and could be a useful tool in getting kids up and active. Creative songs like "20 Mattresses" that retell old fairytales are cleverly written, and make sure to present the Princess of each story as an autonomous, independent woman.

There is a pop-rock/Motown vibe throughout the album which works well, though the excessively layered vocals could grate on parents who are used to listening to more refined tunes. However, the style does invite sing-alongs in a way that a sparser or more subdued arrangement might not.

Parents not so keen on the princess theme should steer clear, and the album's exclusive reference to girls would likely make the CD undesirable to male listeners.

WHY THEY´LL WANT IT
Parents who want to make sure that their daughters are learning more about the importance of self-expression, independence and self-confidence than beauty and romance will welcome this album, though it still appeals to "girly girls" who love princesses and all things pink. The songs are quite catchy and would be ideal for kids who like to sing and dance along to their music.

— Justina Huddleston

---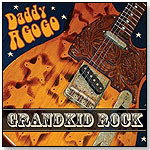 Title: Grandkid Rock
From: DADDY A GO GO
Age: 3-10
Gender: Boys and Girls
MSRP: $12.00

TDmonthly Rating:




WHAT IT IS
This 16 track kids' rock album features songs by veteran children's musician John Boydston. All of the tracks have been released on previous Daddy A Go Go albums, but have been re-mastered on this release and specifically selected for their rock'n'roll vibe.

WHAT WE THOUGHT
The music has a blues-laced alt-rock vibe, and the vocal and instrumental performances are very tight. If you don't listen closely to the lyrics, you might not even know that this is a CD for kids.

Lead singer/songwriter John Boydston's lyrics are relevant to children, but aren't as hokey and repetitive as many in the genre. The album might be too sophisticated for the preschool set, but would be a good fit for early elementary students, or kids who prefer rocking guitars to the tinkle of toy pianos.

Lyrics like "It's fun to be a kid/ But it's hard to be a kid/ I try to behave/ But I forget/ Like the time I got my Grandma soaking wet" are humorous, and really capture the feeling of being young. Many of the songs are sung from a kid's perspective, and even those with a message, like "Eat Every Bean and Pea on Your Plate," manage to sound conspiratorial rather than preachy.

WHY THEY´LL WANT IT
I would listen to this CD on it's own, even without kids around. The skilled musicianship on the album sets this CD on a level above most of its peers. Parents who love music but want their kids to listen to thematically appropriate songs will love this CD. Meanwhile, children will appreciate the rocking, high-energy vibe of the music and the comedic, honest tone of the lyrics. This is a CD that takes kids' music seriously, while having tons of fun in the process.

— Justina Huddleston


---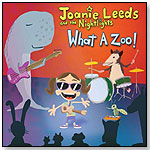 Title: Joanie Leeds and the Nighlights - What a Zoo!
From: LIMBOSTAR
Gender: Boys and Girls
MSRP: $15.00

TDmonthly Rating:




WHAT IT IS
On this album, singer/songwriter Joanie Leeds belts it out on 14 tracks that she hopes will make kids more interested in the well being of the animal kingdom. "Bottom line, we need to teach our children and generations to come how important it is to 'Be Green' and make intelligent choices when it comes to eating animals," Leeds says in the CD's liner notes. Most of the songs are originals, though there are covers of "Froggie Went A Courtin'," "Possum" by Phish, and "Wimoweh."

WHAT WE THOUGHT
Leeds' pleasant vocals and fun lyrics about different animals and insects are accompanied by a punchy, poppy instrumental backing. The first track on the album, "All the Animals," is a simple counting song that features different critters and their legs. The lyrics are well suited to the preschool set, and the music is sophisticated enough that mom and dad won´t mind listening.

The songs on the album are catchy without being repetitive or annoying. The melodies take refreshing, unexpected twists and turns that allow Leeds' voice to shine, all without distracting from the well-written and charmingly simple lyrics. It's the kind of CD that can be listened to and loved by kids of a wide age range - the lyrics are appropriate for younger kids, but not so infantile as to be off-putting to their older siblings.

The third track, a jazzy, old-timey rendition of "Froggie Went a Courtin'" is especially representative of Leeds' unique knack for combining a high-level of musicianship with child-friendly lyrics. A zippy rap interlude performed by children's rapper Secret Agent 23 Skidoo gives the song even more pizzazz. This dynamic song showcases the versatility and talent that shines throughout the entirety of album.

WHY THEY´LL WANT IT
Kids will like bopping around to these dancable, positive songs about animals, while parents will appreciate the expertly crafted songs and Leeds' beautiful, effortless vocals.

— Justina Huddleston

Writer's Bio:
Justina Huddleston graduated Magna Cum Laude from Emerson College with a BA in Writing, Literature, and Publishing in 2009. After graduating she was the on-site director of the Boston Children's Museum gift store for a year, selling educational, developmental, and creative activity toys that tied in with the museum's exhibits. Justina also interned at children's book publisher Candlewick Press before moving from Boston to Los Angeles, where she is now Editorial Director of
TDmonthly Magazine
.
Read more articles by this author
THIS BANNER IS AN AD:
---
---