---
LEGO® Education BuildToExpress Transforms the Learning Process
LEGO® Education today announced LEGO Education BuildToExpress, a new approach to learning that utilizes traditional LEGO bricks with a facilitative teaching process across many subject areas and enables students to develop a deeper understanding of what they are learning through reflection and dialogue.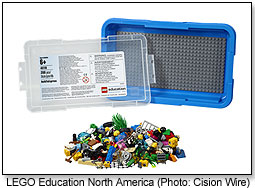 BuildToExpress provides a shared, nonverbal language that levels the playing field for classroom communication. LEGO Education BuildToExpress uses carefully selected LEGO elements within a unique, curriculum-based, 'Build and Share' context. It ensures that every student is given the opportunity to be active, engaged, and heard.

Students are tasked with building models that illustrate their understanding of various curriculum concepts, for example, how they "view" democracy or how they visualize a historic event. It's also an excellent way to boost classroom communication as students learn to actively listen, think creatively, and cooperate to solve problems.

The professional development program offered by LEGO Education prepares teachers for structuring classroom lessons and for facilitating the dialogue so that they ask the right questions at the right time, which leads to students who are stimulated, inspired, and active in their learning. The process enables the teacher to be truly supported in the role of facilitator and provides an opportunity for unique expression by each student, which leads to differentiated instruction.

Quotes:

"Imagine a classroom full of positive and motivated students – where everyone gets involved and takes an active role in the learning process and where you, the teacher, become a true hands-on facilitator." said Jacob Kragh, president, LEGO Education. "The solution is tailored for educators who are serious about developing 21st-century learners and creative problem solvers."

"I am a firm believer in a hands-on approach to learning," said Dr. Cindy Little, instructor, Baylor's School of Education. "The BuildToExpress experience helps students through the thinking process and holds great potential for learning across all ages of students."

"I use BuildToExpress to encourage my struggling math students to create structures to represent how they feel about math," said Jennifer Rising, elementary classroom teacher, The Nueva School in Hillsborough, California. "Building with LEGO Education bricks is a fun way for students to think about their emotions and express them verbally. Once they address their attitudes, they show greater focus and attention later during math instruction."

Learn more about BuildToExpress by viewing these additional resources:

Product, Video Testimonials and Research: www.LEGOEducation.us/BuildToExpress
Editor contact: 512-659-5381
North America Sales Contact: 1-800-362-4308


About LEGO Education

Since 1980, LEGO Education (LEGOEducation.com) has delivered hands-on, curriculum-based resources for teachers and students worldwide. LEGO Education believes a hands-on, minds-on approach helps students actively take ownership of the learning process and develop 21st-century skills such as creative thinking and problem solving through real-life, engaging experiences.

LEGO and the LEGO logo, logo are trademarks of the LEGO Group. ©2012 The LEGO Group.
THIS BANNER IS AN AD:
---
---