---
Hape Launches Summer Toy Collection
Leading toy manufacturer Hape North America has announced a Sneak Peak of its summer introductions. The early introduction and shipping of 18 new products made of FSC-certified wood from sustainable forests includes toddler Push & Pull toys, Early Explorer developmental toys, Playfully Delicious pretend food and an entire range of Happy Doll Furniture.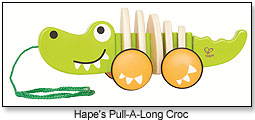 True to Hape's philosophy and commitment to manufacturing high quality, eco-friendly toys, the new collection is made of FSC-certified wood, a guarantee that all raw materials are sourced from forests that employ sustainable forestry practices.

"We are very excited to bring this new collection to market later this summer," said David Quercia, vice president of North and South American territories at Hape International Ltd. "At Hape, we continue to bring parents, grandparents and educators a variety of fun, eco-friendly, and educational toys that bring endless smiles to children's' faces."

The Walk-A-Long Puppy and Pull-A-Long Croc ($24.99 each) wiggle and wobble when pulled and the pup can be trained to "stay" or "beg". The Galloping Zebra Cart ($69.99) is a combination cart and carousel with zebras taking turns moving up and down when pushed. For children 12 months +.

Hape has taken lacing to a new level with the Lacing Pony and Lacing Peacock ($14.99 each). With these two wood and felt kits children can create their own fanciful designs in 3-D. High top Lacing Skates ($9.99) are the theme for learning to tie shoes and are offered in red or blue. All lacing toys are age graded for children 3 years +.

Five classic toys are being launched in the Early Explorers range where matching, stacking, sorting and pounding are the main activity affordably priced between $9.99 and $14.99. For children 12 months +

Hape is especially excited to announce a new range of Happy Doll Furniture, lifestyle toys that encourage pretend play and story-telling. The Highchair($49.99), Changing Table($59.99), Stroller($59.99) and Rock-a-bye Cradle($59.99) are white and natural wood with Hape's pink heart/leaf signature patterned fabric. For children 3 years +.

Shopping Cart ($69.99) and Pasta set ($24.99) are playfully delicious additions to the realistic role play range that encourages healthy eating.

Hape Company Background
Hape North America, (Hape pronounced "hah-pay"), founded by Peter Handstein, was established in Europe Switzerland 26 years ago. Hape is able to produce the highest standards of quality through stringent control systems and a world class production facility. Hape brands including Hape®, Hape Collection, Quadrilla®, and Beleduc are sold through specialty retail, museum gift stores, school supply stores and select catalog and internet accounts in over 50 countries. They have won numerous awards from prestigious independent toy testing groups for toy design, quality and safety. Discover more at www.hapetoys.com and "like" us on Facebook at http://www.facebook.com/hapetoys.
THIS BANNER IS AN AD:
---
---