Tools:








LeapFrog Announces LeapPad 2™ And Leapster GS™
The Next Generation of Breakthrough Educational Entertainment Platforms for Kids
LeapFrog Enterprises, Inc., the leader in educational entertainment, today announced two revolutionary new platforms: LeapPad2, the next generation of the #1 kid's learning tablet LeapPad™, and LeapsterGS, the ultimate learning video game system.

The #1 Kid's Learning Tablet Just Got Better
Within a year of launch, LeapPad has received more than 20 accolades, including three prestigious awards from the Toy Industry Association (Educational Toy of the Year, Preschool Toy of the Year, and the ultimate recognition – Toy of the Year). LeapFrog introduces LeapPad2, the next generation of its magical tablet that delivers education filled with entertainment and fun creative exploration for kids.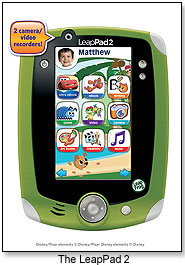 "We were surprised by the incredible consumer demand for the LeapPad from the day it launched," said John Barbour, chief executive officer at LeapFrog. "It was one of the hottest and hardest-to-find kids' products last holiday season, and it received significant praise from parents, educators and the industry. With the introduction of the innovative LeapPad2 platform, LeapFrog continues to revolutionize and lead the category with engaging entertainment experiences filled with life-changing education that help children reach their potential."

The new LeapPad2 features higher resolution front-and-back cameras and video recorders, the new faster LF 2000 processor and double the memory (4 GB), all housed in a durable, kid-friendly design. LeapPad2 also has improved battery life and is compatible with a new internal battery system and recharger pack available separately.

LeapPad2 includes extensive free content: a music player with five LeapFrog Learning Songs, a new Cartoon Director creativity app, an Art Studio creativity app, the popular Pet Pad writing app and choice of an additional app. LeapPad2's exclusive Cartoon Director app makes the most out of the new features, letting kids develop their inner director by creating and starring in their very own cartoons, as well as sharing their masterpieces with family and friends.

By year's end, the LeapPad content library will feature more than 325 game cartridges, apps, music, videos, eBooks and more. LeapPad2 is compatible with LeapFrog Explorer cartridges and LeapFrog App Center digital content.

The Ultimate Learning Game System
To date, LeapFrog's Leapster video gaming products have garnered more than 50 awards. In 2011 Leapster Explorer, the #1 selling learning game handheld, was awarded Educational Toy of the Year from the Toy Industry Association. LeapsterGS, the newest addition to the Leapster family, will offer fast-action gameplay packed with rich learning in a revolutionary new learning video game system.

"Kids are exposed to and desire video games at an earlier age than ever. While a gaming system is sometimes inevitable, many parents would prefer to have an education-filled alternative," said Barbour. "With LeapsterGS, we have created a video gaming system that parents and kids can agree on. Kids will love the action-packed gameplay and parents will feel confident that their child is learning while doing something they love."

LeapsterGS is a substantial improvement over the current Leapster Explorer. It has a new thinner sleek design, larger screen, built-in motion sensor plus camera and video recorder, the new faster LF 2000 processor and 4x the internal memory (2 GB). LeapsterGS is compatible with a new internal battery system and recharger pack available separately.

This new generation Leapster provides the ultimate educational video gaming experience. Kids can take charge of the action with the built-in motion sensor by tilting, turning and shaking their way through the game. They can also bring the real world into their play—and put themselves right into the game—with the built-in camera, video recorder and microphone. LeapsterGS delivers on fast-action gameplay while building core skills for success in school and in life.

LeapsterGS comes with free content including the new "Escape of the Sillies" game app, the popular Pet Pad writing app and choice of an additional app. Exclusive to LeapsterGS, the "Escape of the Sillies" app immerses kids into the game with the built-in camera and face-morphing technology, where they will customize faces of silly monsters while building their math skills.

By year's end, the LeapsterGS content library will feature more than 300 action-packed game cartridges, apps, music, videos, eBooks and more. LeapsterGS is compatible with LeapFrog Explorer cartridges and LeapFrog App Center digital content.

A Robust Content Library
LeapPad2 and LeapsterGS open the door to a shared library full of engaging and educational content. To help parents navigate the massive amount of children's digital content of vastly varying degrees of quality that are available today, LeapFrog has created a complete solution of high-quality content that is safe and age-appropriate. This robust library is a combination of LeapFrog educational entertainment content designed by in-house educational and gaming experts, and engaging content from some of the biggest names in children's entertainment, carefully selected by LeapFrog's experts for educational value and age appropriateness.

Whether kids want fast-action gaming or to explore their inner artist, every LeapFrog game cartridge and app is embedded with core learning skills. The LeapFrog App Center, which launched in 2011, is filled with high-quality collections of educational apps, music, and videos from content partners to original LeapFrog properties including LeapSchool. The aspirational gaming features of LeapsterGS put kids into the action and keep them practicing important academic skills. The intuitive tablet format of LeapPad2 inspires kids to explore creativity and build skills including phonics, vocabulary, math, science and more—in addition to offering them their very own video and music player.

Availability
LeapPad2 will be sold at MSRP $99.99 and is recommended for children 3 to 9 years. LeapsterGS will be sold at MSRP $69.99 and is recommended for children 4 to 9 years. Downloadable apps are priced at MSRP $5.00 and up and game cartridges at MSRP $24.99. LeapPad2 and LeapsterGS will be available for pre-sale at leapfrog.com* and at major online retailers in the U.S., Canada, UK and Ireland beginning July 18. They will be available at major retail locations early August and in select other countries such as Australia, New Zealand, South Africa, Hong Kong, Singapore, Philippines, Korea, Thailand and other Asian countries later in the fall. The LeapFrog App Center can be accessed through the LeapFrog Connect Application for LeapPad2 and LeapsterGS platforms. For more information on LeapPad2 and LeapsterGS, visit leapfrog.com/nextgen.

*Purchases at leapfrog.com are available only in the U.S. and Canada.

About LeapFrog
LeapFrog Enterprises, Inc. is the leader in educational entertainment for children. LeapFrog's award-winning product portfolio helps millions of children achieve their potential by delivering best-in-class curriculum through engaging content, fun multimedia learning platforms, and toys. The Learning Path, LeapFrog's proprietary online destination for parents and extended family, provides personalized feedback on a child's learning progress and offers recommendations to enhance each child's learning experience. Through the power of play, LeapFrog's products and curriculum help children of all ages prepare for school and life success. LeapFrog's products are available in more than 45 countries and have been used by teachers in more than 100,000 U.S. classrooms. LeapFrog is based in Emeryville, California and was founded in 1995 by a father who revolutionized technology-based learning solutions to help his child learn how to read. Come see the learning at leapfrog.com.

See product videos and more images here:
http://www.multivu.com/mnr/54819-leapfrog-announces-leappad-2-and-leapster-gs

NOTE: LEAPFROG and the LeapFrog logo are trademarks or registered trademarks of LeapFrog Enterprises, Inc.

SOURCE: PR Newswire
Catalog Request Form
THIS BANNER IS AN AD:
---
---