---
Retailers: 7 Tips For a Successful Toy Fair
Toy Fair veterans share their advice for making the most of the show
With additional reporting from Chris Lundy and Brenda Ruggiero

Toy Fair is one of the biggest events of the year for many retailers – but every one of them has different strategies for making their time at the show a success.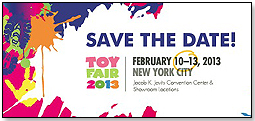 TDmonthly Magazine asked retailer veterans of Toy Fair about their best advice for retailers attending the show in 2013. See what they had to say below.

1. Take Inventory Before You Go

"Try to enter the new year with enough stock so that you don't feel rushed to refill at the show," advised Deborah Smith, owner of Toys That Teach in Richmond, Va.

"Run a report of your whole inventory. Mark down and get rid of the slow sellers to create more buying money," Gregory Sahagian, owner of Learning Express of Beverly in Beverly, Mass., suggested.

Use your sales reports as a guide. "Be careful not to over-order," warned Terry Myers, owner of Kaleidoscope Toys in Round Rock, Texas.

2. Make a Plan

"Have a strategy before you go in of what you want to see and try to stick to it," urged Geoff Pendexter, owner of Whirlygigs in Brentwood, N.H. "Don't let yourself get distracted."

Try to figure out what direction you want to go with ahead of time. Look at sales reports for the previous year and ask yourself, "What sold well? What didn't sell well? What's missing?" suggested Dalene Lockhart, owner of Toy Town in Casper, Wyo.

It's important to plan for the show financially well in advance. "Set a budget and stick to it," advised Mary Porter Green, owner of Curiosity Zone in Ashburn, Va.

"Plan which vendors you want to make appointments to see, then spend 1-1/2 to 2 days working the rest of the floor looking for new ideas," Mike Castor, owner Pentwater Toybox in Pentwater, Mich., said.

Kim Emigh, VP of e-commerce at Growing Tree Toys in State College, Pa., had some good advice. "Review all of the terms and/or deals that are sent to you in advance of the show to prepare orders to bring with you - it's too hard to write many orders at most trade shows! Make a list of must-see manufacturers, and don't linger too long at the booths of little interest to you - just trust your instincts!"

3. Focus on New Vendors

Make a list of the vendors you haven't seen before. Do a little research on them, then make sure you look at the products you like first hand. "We make a concerted effort to get to new stuff," said Marc Holcomb, owner of Toys & Co. in Greensboro, N.C.

Geoff from Whirlygigs agreed. "Focus on new and different things for your store instead of looking at things you already have."

In particular, try to look down on the first floor. "That's the low rent district where you will see new stuff coming along. It's people who are new to the business and trying to break in," Mike from Pentwater Toybox told TDmonthly.

4. Shop Carefully

"My strategy for shopping at the shows is to see EVERYTHING first without buying. Too many times there is another similar product at the show, possibly with better terms or features. We write down what we like and only buy on the last day, to take advantage of specials. Also, having at least a one day buffer before buying helps calm the 'impetuous buy' that might be regretted later," Joe Berardoni Jr., owner of Pun's Toys in Bryn Mawr, Pa., advised.

5. Get Staff Involved

"Get your staff involved. Let them see the catalogs and ask questions. You have to buy the things that they like. Because if they like it, they'll sell it," suggested Deborah from Toys That Teach.

Dean Smith, owner of Jazams in Princeton, N.J., has a similar strategy. "Get staff input on what some of the focuses need to be at the shows -- where we need to boost merchandising and what areas are lacking in the store."

6. Don't Worry About Orders

"Sometimes I go to shows just to look at stuff. I'm not there to buy. Sometimes, I go without the idea that I'm placing orders." It makes for a more relaxed time, Deborah from Toys That Teach told TDmonthly.

"We usually look and buy later. At Toy Fair, a lot of companies aren't in order-ready mode," agreed Gregory from Learning Express of Beverly.

7. Last But Not Least

"I would say, don't take your car to New York City. We go on the Amtrak!" advises Mike from Pentwater Toybox.

And, the piece of advice we receive from retailers and exhibitors alike every year: "Wear comfortable shoes!"

Writer's Bio:
Justina Huddleston graduated Magna Cum Laude from Emerson College with a BA in Writing, Literature, and Publishing in 2009. After graduating she was the on-site director of the Boston Children's Museum gift store for a year, selling educational, developmental, and creative activity toys that tied in with the museum's exhibits. Justina also interned at children's book publisher Candlewick Press before moving from Boston to Los Angeles, where she is now Editorial Director of
TDmonthly Magazine
.
Read more articles by this author
THIS BANNER IS AN AD:
---
---