---
Q&A With Bob Moog, Co-Founder of University Games
Bob Moog, co-founder of University Games, recently took the time to speak with TDmonthly Magazine. Below, he explains how University Games was started, how he hopes their games affect kids' lives, and why innovation is essential to succeeding in the toy and game industry.





Q. How did you come up with the idea for your first children's product?

A. It was Kids On Stage, the Charades Game for Kids, in 1987. Jeff Loeb, our VP of Sales, met two teachers in St. Louis who had been working on a game to replace Candyland as the first game for young children to learn. It was introduced to the specialty market and remains one of our top selling kid's games.

Q. What steps did you need to take to go from the original spark of an idea to actual production? How long did it take?

A. We are really speedy when it comes to developing and manufacturing games. In general we can get a game to market in about one-third the time of our competitors. One reason is that most of our board games are manufactured in the US. The second reason is that most of the product development is done in house by our game development team. This year we brought Pub Trivia to market in less than 4 months. The steps are concept, game play, packaging, testing, internal development of mechanics, final packaging to print ready art and then off to the factory.

Q. How much money did you need to create the first prototype and come up with a business plan?

A. University Games was started with $20,000. We used the initial funding (which we provided) to create the first two titles in our Murder Mystery Party line. We did not write a business plan for about 5 years, but our sales increased every year and we were profitable starting in 1985 (our first full year in business).

Q. How did you raise it, and how long did it take to raise it?

A. Our strategy was that we would probably go broke and we didn't feel comfortable losing someone else's money and starting our careers off in that way. So we took our life savings and decided to give the company a try, knowing that our odds of success were very low.
Raising the money took about 10 minutes. I wrote a check emptying out my checking account and then Cris Lehman (the co-founder) invested his life savings. Actually, I guess it took a couple of hours. Cris had forgotten his checkbook and had to drive home to get it.

Q. What career path did you originally envision for yourself? Did you ever anticipate working with children's products?

A. I have always in enjoyed being with children even when babysitting or being a camp counselor. I knew from my time in high school that I wanted to have a career in consumer products; something that people could eat or drink or play with. University Games and the toy industry has been a better path than I could have ever imagined.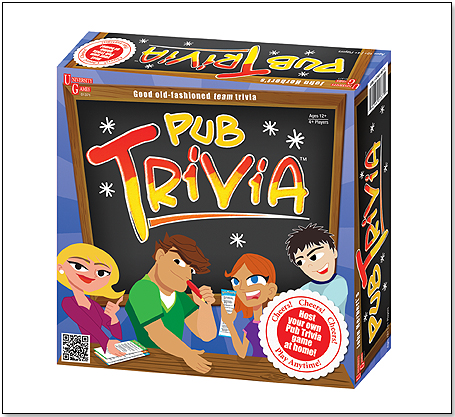 Q. What were the top two or three most significant obstacles you had to overcome to achieve success, and how did you do it?

A. That's easy. We had lots and lots of ideas for games, but very little money. Maintaining cash flow and garnering distribution were our two toughest obstacles.

Q. What do you consider to be your greatest accomplishment in the toy industry? Why?

A. We have had lots of accomplishments, such as being named Game of Year in 2010 and Vendor of the Year with Toys R Us. However, I am most proud of the forming of AreYouGame.com in 1998. AreYouGame was the first chance that a second tier or fledging game company could offer their excellent games to the entire US and have the games available 24 hours a day, every day of the year. It was a breakthrough for the major issue of distribution.

Q. What makes your products better than the competition?

A. Our products are on trend and often innovative. We understand the consumer really well and work tirelessly to achieve the balance between compelling game play, value pricing and higher than industry average materials. In addition, we have a sense of humor when introducing games, such as Smart Ass and I Ate Zombies.

Q. What aspect of the toy industry most surprised you when you first started?

A. I was naive and didn't understand that "product isn't really king." Distribution is the most important aspect of a successful toy business. A great product is queen, distribution is KING.

Q. How do you hope your product/s will affect children's lives?

A. This question really hits the nail on the head for me. I hope that children and their families will play with a toy from University Games and that they will learn while they are also being entertained. Maybe they will learn something about themselves or maybe the game or toy will assist them to develop some new skill or knowledge base. It is all about mixing learning and fun!

Q. Where do you think the industry is headed?

A. It is headed towards a very severe transformation. Mattel and Hasbro are figuring it out and morphing their companies into broader based entities. Suppliers, retailers and manufacturers will all be extinct if they don't start reinventing their companies to address the changes.

Q. Where and what did you study?

A. I studied history and political science with a little geology and psychology thrown in at The Colorado College and Stanford.

Q. Where did you grow up?

A. Ha, I am still growing up! I was born in St. Louis, Missouri.

Q. What hardships did you have to overcome during your formative years and how did they help you persevere as a business owner?

A. I have been the most fortunate guy I know and I can't really think of any serious hardships. However, there are lots of examples in my youth of activities that have helped me as a business leader. My brother and I started the Moog Gazette when I was in third grade and I had to learn about sales and distribution. By fifth grade we were up to more than 200 subscriptions for our weekly paper. I also learned that in business "integrity" is essential. I had some run-ins with the local police as a child (just little things like breaking into the elementary school, lighting fires, and stealing brownies from the local bakery) that taught me that it was better to face bad news then to try and hide from it. Our company always tries to be direct and straight with those that we are doing business with.

Q. What is the most disappointing thing that you have to live with as a business owner?

A. This is a follow-up to the question above. The lack of integrity in American business is my biggest disappointment. There is no longer any honor when people give their word or sign a contract. The focus is all on money, not "right and wrong."

Q. If you had to start over, what would you do differently?

A. Have more FUN! The toy industry should be fun everyday. Too many people are stressed and under too much pressure. I would focus more directly on mixing learning and fun for our customers and our team at University Games.

Q. What do you think are the 3 most essential steps one needs to take to launch a toy company?

A. Find good people to work with and people who you trust.
Set a timetable to launch your first product and stick to it
Commit totally to being successful (Forget about life/work balance and tip the scales by committing to focus your waking hours on succeeding).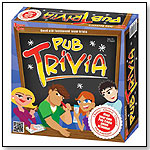 More than 1.2 million people play pub trivia quizzes every year. University Games has packed up the fun of the pub into a box to take home, complete with 1,000 trivia questions across 5 different categories and a score pad. Teams compete to name famous people, dates and even test their drawing skills. The team with the most points at the end of 5 rounds wins.

ToyDirectory Product ID#: 35574

(added 11/20/2012)

.

AD
---




MSRP: $16.99

Age Range: 3 to 6Specialty: Yes (as of 2012)Gender: Boys And Girls





Kids love to get into the act, and this charades game is made especially to put youngsters in the spotlight. In this game, every player gets in the act on every turn, so it's ideal for home or school play. And there is no reading required, so little ones can play without help from Mommy or teacher. Encourage creativity and communication skills while having active fun. It's a game the whole family can play and enjoy. National Parenting Publications Award and Early Childhood News 100 Best Picks.

ToyDirectory Product ID#: 35575

(added 11/20/2012)

.

AD
---






This annual wine-tasting festival is in full swing when the body of local vineyard owner, Barry Underwood, is found hidden beneath his wine cellar. Comes with a complete party planner, invitations, costume and menu suggestions, clues and more. Mystery dinner party game for 8 players.

ToyDirectory Product ID#: 35576

(added 11/20/2012)

.

AD
---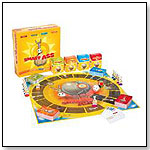 MSRP: $22.98

Age Range: 12 and upSKU or Item #: 01360Launch Date: February 2007Gender: Boys And Girls





In this fast-paced trivia game for two to eight players, each Who, What and Where Am I? card has 10 clues, and the first player to yell out the correct answer moves one step closer to being the ultimate "Smart Ass." The first player to reach the target in the center of the board wins. Contents include a game board, eight donkey playing pieces, 490 questions, one category die, one movement die and instructions. This product won the 2007 Game of the Year Award from the Australian Games Association. "It's funny, fast-paced ... takes less than 30 minutes and there are no turns!" Matthew Crovitz of University Games told TDmonthly. "[It] was invented by Rob Elliot — the longtime host of Wheel of Fortune in Australia, a man who knows a thing or two about trivia and fun." Launch date: February 2007.

ToyDirectory Product ID#: 13064

(added 5/23/2007)

.

AD
---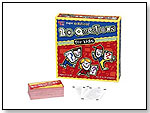 MSRP: $24.99

Age Range: 7 and upSKU or Item #: 01050Launch Date: January 2010Gender: Boys And Girls





This is the kids version of the classic game of people, places, and things, where clues are given to players who must deduce the item's identity. One player acts as the clue giver while the others try to solve the secret identity, and each clue that's read reveals more about the secret identity. I am reddish in color, I don't have any rings, and a candy bar shares my name. What am I? The trick is to solve the identity in the fewest number of clues.

ToyDirectory Product ID#: 28725

(added 5/28/2010)

.

AD
---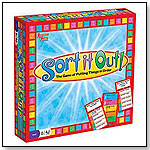 MSRP: $29.99

Age Range: 12 and upSKU or Item #: 01026Launch Date: January 2009Gender: Boys And Girls





Sort it Out! is a game of putting things in order, from Australia. It's designed as a great icebreaker for groups of new friends and a battle of wits for old; it is a fast-paced game where knowing just a little about something can help a player win everything. "Sort it Out! offers a new approach to trivia, making it more interactive and better for all levels. Because players are asked to arrange information instead of supply facts, they have a greater chance of scoring points even by guessing or using logic. Every turn involves every player, so there are no pauses between turns to repel energetic player," Maddie Oatman of University Games told TDmonthly. Launch date: 2009.

ToyDirectory Product ID#: 25856

(added 10/29/2009)

.

AD
---

Writer's Bio:
Justina Huddleston graduated Magna Cum Laude from Emerson College with a BA in Writing, Literature, and Publishing in 2009. After graduating she was the on-site director of the Boston Children's Museum gift store for a year, selling educational, developmental, and creative activity toys that tied in with the museum's exhibits. Justina also interned at children's book publisher Candlewick Press before moving from Boston to Los Angeles, where she is now Editorial Director of
TDmonthly Magazine
.
Read more articles by this author
THIS BANNER IS AN AD:
---
---