---
Will Online Shopping Follow the Path of Catalogs?
Considering the huge success of this year's Cyber Monday and Black Friday online sales, I thought it would be interesting to see how the online shopping industry of today compares to the catalog shopping industry of 2001.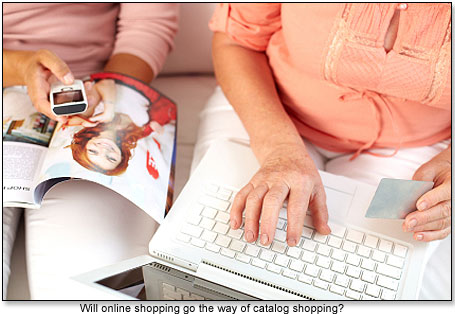 I wondered if the offline catalog business had just shifted to online. It's a bit tough to answer but here are some things to consider...

Forrester Research recently reported that online sales make up approximately 7% of total retail sales in the US.

The Direct Marketing Association (DMA) reported in 2001 that total catalog sales of products to consumers was $120 billion for that year – 3.6% of total retail sales that year.

What are the similarities and differences between the two, and what can retailers learn from online shopping's replacement of catalog shopping over the last 11 years?

Model and Methods

The business model for online shopping today is almost identical to catalog retailing, stretching back to the days of Sears and Montgomery Wards. The model consists of four points:

Present product offers directly to consumers
Provide useful information to help consumers make their purchasing decisions
Price the products high enough to make sufficient margin, but low enough to entice consumers
Source quality and efficient producers and suppliers that can meet demand
The method is where we find the differences. Online shopping has leveraged advances in technology, business capabilities, and supply chain approaches since 2001.

Here are four retail trend differences between catalogs and online shopping.

Product offers

We've moved from push to pull. Mailing catalogs to consumers was a push method: push information into the hands of consumers, then let them make their decisions. Online shopping is more of a pull strategy: customers are actively looking, and are pulling information about products. The consumer is already considering purchasing something at the time they are pulling the information towards them.

Providing information

Catalog retailers provided information that was current at the time the catalog was printed. There was no opportunity to change that information once it was printed. Online shopping retailers can change information anytime. Therefore, online retailers can test different sales copy and see which is most effective.

Pricing

Once prices were in the catalog, they could not be changed. So, catalog retailers had to price their products while a great amount of uncertainty existed with respect to demand. Online shopping retailers can adjust prices based on supply and demand in almost real time. Major sites now change prices by the hour rather than the day or week.

Producers

Manufacturers are able to react to lower or higher demand by ramping manufacturing up or down much more easily than they could in 2001. Producers have gone to great lengths in the last 11 years to streamline the overall supply chain and reduce inventory levels.

Could online shopping retailing go the way of catalog retailing?

We are already seeing methods change again. Let's consider those four areas again in the context of current retail trends.

Present offers

The trend is emerging back to pushing information. Daily deal firms are pushing offers to consumers every day via email. Amazon is doing it at as well based on the customers' previous searches. Their email list is as valuable to them as the catalog vendors' mailing lists were 11 years ago. Mobile advertising is a hot topic in retailers boardrooms as they look to grab the customer anywhere and everywhere via discounts and coupons.

Providing information

Data is not just provided in real-time for online shopping, but also is tailored to each customer based on their location. The offers consumers receive are becoming more and more based on their location at the time the offer is made.

Pricing

Online shopping prices are becoming individual. The consumer has the ability to impact the price he or she pays if they can get others to sign up for the deal via their Facebook, email, tweet or other updates.

Producers

We are seeing greater speed and quicker cycle times. SAP, the predominant software provider to large manufacturers, offers software that reduces the time from hours to seconds so manufacturers can react even more quickly to online shopping trends.

Some niche players like Restoration Hardware are using high-end catalogs to stand out from their online competitors.

All that said, products are now finding us in subway tunnels, in magazines, and consumers can even scan a picture of an item while it is on a bystander and purchase it from their Smartphone.

What do you say? Have you shopped from a catalog lately? Could online retailing go the way of catalog retailing?

Writer's Bio:
Bob Phibbs is the Retail Doctor®, a best-selling author and speaker who has helped thousands of independent businesses compete. His new book, The Retail Doctor's Guide to Growing Your Business has received praise from both Inc. magazine and USA Today and can be found at your local bookstore or ordered at http://www.retaildoc.com/guide. He and his work have been featured in the New York Times, the Wall Street Journal and Entrepreneur magazine. Questions? Contact Bob at info@retaildoc.com.
This article was reprinted with permission of the author, Bob Phibbs, aka The Retail Doctor®.
Read more articles by this author
THIS BANNER IS AN AD:
---
---