---
Toy Fair 2013 - To Go, Or Not To Go?
Retailers share their reasons for attending Toy Fair - or staying at home
With additional reporting by Chris Lundy and Brenda Ruggiero

Going to Toy Fair can require a big investment of time and money from specialty retailers. That's why we asked retailers to share with us the reasons why they attend the annual New York International Toy Fair - or, why they stay home. See what they said below, and if you're headed to the show, be sure to check out our 7 Tips for a Successful Toy Fair.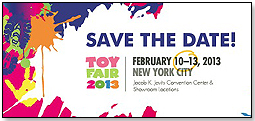 To Go

Fred Rosenberg, owner of On the Park in Kingwood, Texas, likes to go to Toy Fair to build relationships with vendors. "I get to see a lot of product in a very condensed four days." He likes to see things hands-on, and uses social media to get his customers' feedback. "I can go to Toy Fair, take a picture, write a description, and ask customers if I should buy it," he shared.

"I feel like if I go, then I've seen it all," Melissa Pennille, co-owner of Teaching Toys & Books in Tacoma, Wash., told TDmonthly. When a customer asks, "Have you seen this new product?" she can tell them about it. Talking to merchants and vendors at the show is also a good indicator for the economy, she said.

The majority of retailers interviewed said that they try to focus on new companies at Toy Fair, in hopes of finding something truly innovative.

"At Toy Fair, I'm looking to see something new. I'm tired of the same old stuff," Barbara Finblum, owner of Barston's Child's Play in Baltimore, Md., told TDmonthly.

"I prefer to spend more time on the lower level with the little guys. That's where you find the surprises," Mike DiAndrea, manager of Hardware Toys in Paoli, Pa., shared.

Not To Go

Teresa Derry, owner of Annie's Toy Chest in Cocoa, Fla., told TDmonthly that she doesn't plan on attending Toy Fair. "It's tough to get away that time of year," she said. Instead, she's going to ASTRA. "I do almost all my buying there." Teresa also relies on the recommendations of her sales reps when she is looking for new products.

Pat Siegfried, co-owner of Black Forest Books & Toys in Charlotte, N.C., is also a fan of ASTRA. "It's geared more to specialty toy shops. That's where we find the things that customers want from us," she said, explaining why she no longer attends Toy Fair.

Jessica Wood from Northshire Bookstore in Manchester Center, Vt., went to Toy Fair last year, but isn't going in 2013. "I found a few new things last year, but I think it's wise to take a year off now and then." She'll be attending a number of smaller gift shows instead.

Julie Steinbach, owner of Rainbow Toys in Falmouth, Maine, attended Toy Fair last year, but told TDmonthly that "When I walked up and down the aisles, I felt so unwelcome." It can be intimidating to navigate such a large show, and some vendors are not interested in small stores. While the specialty toys sections was very receptive to her, the bigger booths were swarming with buyers from big stores.

This year, Julie will attend ASTRA. "It's more geared toward smaller stores, with vendors that are interested, and with lots of opportunities to talk with other owners," she explained.

Whether you're going to the show or staying at home, you can take a peek at some companies that will be introducing new products in 2013 in our January Toy Fair Preview. If you are going to the show, plan out which booths you'll be stopping at with our handy Toy Fair 2013: Booths To Visit article, which lists Toy Fair booth numbers and ordering specials from select toy companies.

Writer's Bio:
Justina Huddleston graduated Magna Cum Laude from Emerson College with a BA in Writing, Literature, and Publishing in 2009. After graduating she was the on-site director of the Boston Children's Museum gift store for a year, selling educational, developmental, and creative activity toys that tied in with the museum's exhibits. Justina also interned at children's book publisher Candlewick Press before moving from Boston to Los Angeles, where she is now Editorial Director of
TDmonthly Magazine
.
Read more articles by this author
THIS BANNER IS AN AD:
---
---