---
The Indian Toy Market – a Growing Giant
Do your homework, find the right partners, and don't delay
India is an exceptionally important country.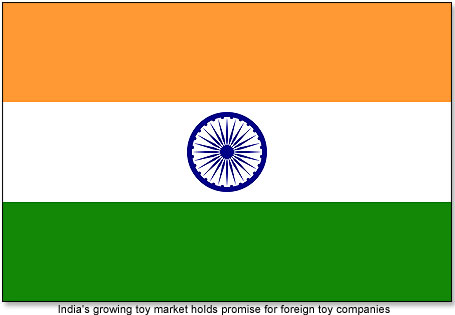 According to the U.S. Commercial Service:

· The Republic of India is the third largest Asian economy after China and Japan. Among the major emerging markets, India ranks second in terms of economic growth with the IMF forecasting a GDP growth rate of 6.9 percent for 2012. India is the second most populous country in the world; approximately thirty percent of the country's 1.2 billion inhabitants reside in urban areas.

· Religion, caste, and language are major determinants of social and political organization in India today. Hindi, the national language, is the most widely spoken, although English is the common language uniting the educated population in a nation with more than 30 major regional languages

· India is witnessing an unprecedented consumption boom. This rapidly growing economy has led to a population of over 300-350 million middle-income Indians with disposable incomes. This group continues to fuel consumption demand in India. The many other factors that contribute to increasing consumption include changing lifestyles of the young urban elite, mounting aspirations, penetration of satellite TV, an increasing appetite for western goods, international exposure, options for quality retail space, and greater product choice and availability.

· There has been a significant expansion in distribution channels in India during the past few years. The size of the Indian retail market in 2011 exceeded $4.9 billion. It is projected that it will grow to $7.1 billion by 2016 averaging 7.5% growth annually. The total number of retail distribution outlets in the country is estimated at over 12 million, mostly family-owned businesses. An annual growth rate for the fast moving consumer goods (FMCG) sector is predicted at 10-12 percent during the next 10 years.

· At first glance, the bulk of the purchasing power in India would appear to be concentrated in its urban markets. However, a majority of the Indian population lives in rural areas distributed over some 627,000 villages. The balance lives in 3,700 towns of which approximately 300 have a population of more than 100,000 inhabitants.

· In addition to traditional selling techniques, the Internet is also gaining importance as a selling method. India is now the third largest Internet user base with about 121 million users after China and the US. According to the government India's Internet user base is expected to grow almost six-fold to 700 million by 2014 who would use Internet with shared connections such as cyber cafes, homes and offices. As the number of Internet users continues to increase with the reduction in cost of Internet access, the Indian e-commerce market will also expand. The latest data from the Internet and Mobil Association of India (IAMAI) estimates the e-commerce turnover was $7.0 billion in 2010, up from $2.8 billion in 2008.

While this all sounds very good, what does it mean for a foreign toy manufacturer looking to enter this market place? I decided to talk to a number of my Indian friends –Indian retailers, manufacturers and wholesalers, both in the organized as well as the unorganized toy sectors - to find out.

Firstly, India is the last of all the Asian countries in terms of per capita spending on toys but it is also the third fastest in terms of compound average growth rate (CAGR), according to the Euromonitor: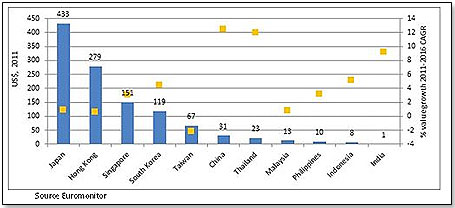 There are not too many factors people agree upon when talking about the Indian toy market. There is the question of size, which is all over the map. There is the question of growth where estimates vary widely except that all agree that it is very dynamic. Then there is the question of the organized versus the unorganized market place.

First, overall size. At this point, the best estimates are that the total Indian toy market is worth just about 11 billion Crore Rupees, or the equivalent of US$ 2 billion. This market is divided into two parts – the "organized" part, which represents about one-third, and the "unorganiszed" part, which takes the rest. "Unorganized" in this context means mainly Mom-and-Pop shops (also known as "Kirana") outside of the main urban centers, and which predominantly operate on a cash-and-carry basis. The "organized" stores are those in the large cities – mainly toy specialty stores such as RCS in New Delhi, Hamleys in Mumbai or Prijanka in Hyderabad.

Both market segments are growing but the organized market is growing faster – about 35% per year versus the unorganized market at 15%. This difference is at least partly generated by the relative population growth rates – 2.4% per year for the urban population versus 1.1% for the rural segment. According to a Euromonitor study, spending on toys and games in India is set to grow at 157% between 2009 and 2014, much faster than other Asian countries such as China (84%), Taiwan (35%), South Korea (33.1%) and Singapore (17.2%).

This is how toys are sold in the total toy market – organized as well as unorganized: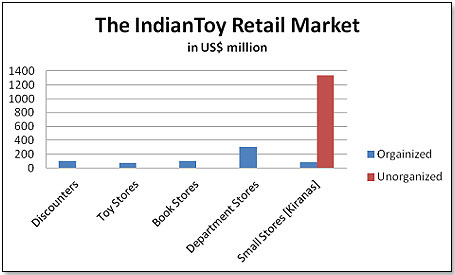 The online toy market, not shown in the chart above, represents a mere 5% and, while growing rapidly, is unlikely to have a major influence on the market overall in the next couple of years.

There are changes afoot at least as far as the Toy Stores segment is concerned. Simba, Germany's second largest toy manufacturer (after Playmobil) is planning to upend the Indian toy market and to become the top toy retailer in the country. They intend to open fifty stores in all the population centers and to thus capture the leading market share position within the next few years. Not only will they sell their own products but they also are in conversations with their leading competitors such as Mattel and Hasbro to get distribution rights for top licenses such as Star Wars, Spiderman, Barbie etc. That is probably one reason why ToysRUs has now decided to take the plunge as well.

It is the organized marketplace that attracts large international toy manufacturers such as Mattel, Hasbro, Disney, Lego etc. The unorganized segment is supplied mainly by wholesalers, who draw their supplies either from domestic manufacturers or Chinese sources. The unorganized marketplace is characterized by very low pricing, small sales volume per store, unconventional accounting, and a very high percentage of knock-offs of leading Western brands such as Lego.

Since the unorganized market place is really not accessible to Western toy brands – for reason of infrastructure, price, economic challenges, cultural differences, language barriers etc – this analysis will now focus on the "organized" one-third of the total.
Firstly, the estimated retail market of $670 million breaks down into these approximate categories: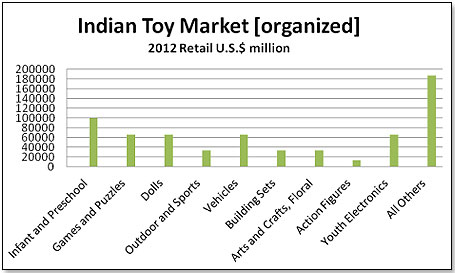 What is interesting is that Action Figures, Building Sets, Arts and Crafts and Outdoor/Sports have a much smaller slice of the pie compared to what we see in the U.S. market. This is to a high degree attributable to knock-offs from China sold in both the organized as well as the unorganized market.

The organized toy segment is dominated by the two leading players – Mattel and Hasbro: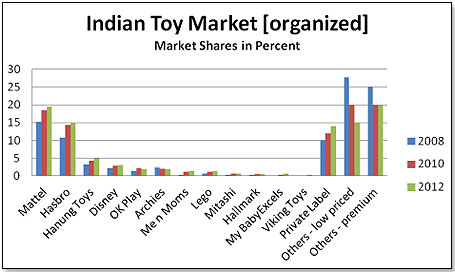 As we have already seen in the chart above, Building Sets (which are very much Lego's domain) are significantly less prominent in India than in the West, and this is again reflected in Lego's market share. I attribute this to the widespread counterfeiting of Lego's products. This is what the U.S. Commercial Service has to say on the subject:

· India's criminal justice system does not effectively support the protection of intellectual property. India's criminal IPR enforcement regime, including border protection against counterfeit and pirated goods, remains weak. There have been few reported convictions for copyright infringements resulting from raids, including raids against recidivists. Adjudication of cases is slow.

It is because of the challenges attending the Indian toy market that the major toy manufacturers – except for Mattel – did not venture into it without having a reliable Indian counterpart. FunSkool India is partners with Hasbro – who has taken a 40% share in the company – and now also with Lego Kool Kidz Products Ltd. has sales and marketing agreements with Little Tikes and Uncle Milton, and Exelixie Management Company has done the same with Simba. Now, even heavyweight ToysRUs is getting into the act and has joined forces with Reliance Retail, one of India's largest retailers and one which is already in bed with Hamley's, arguably UK's finest toy retailer.

When tailoring to these potential partners, Western companies are well advised to keep in mind that because somebody speaks English it does not mean that the same words mean the same things.

Even though entering the Indian toy market for a newcomer will continue to be challenging, there are a number of very positive signs that suggest that such an entry should not be delayed too long. The organized market – which is the logical entry point - is growing much faster than the unorganised one for three reasons. One is that urbanization is progressing at a rapid clip – about one-third of the Indian population now live in cities versus a quarter back in the year 2000. The second reason is that the price levels Indian consumers are paying for toys are inching up: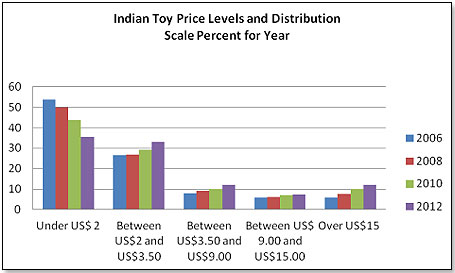 The third reason is that the Indian authorities are beginning to bestir themselves in prosecuting the importation, manufacture and sale of counterfeit toys. These efforts are much more likely to be effective in the urban areas than in the hinterland but as the toy market slowly moves from the rural areas to the urban in line with the growth of the Indian cities, the problem will slowly diminish.
In summary, what we have is a very rapidly growing market place that will over time become more and more hospitable to foreign toy manufacturers, and toy companies are becoming more and more aware of this. However, it is also an extremely complex place in terms of its diversity – religions, languages, traditions, income levels – and it would be a mistake to enter it without having studied it exhaustively beforehand. The most important single factor in the success and failure of such an undertaking is the choice of the Indian partner.

In other words, do your homework, find the right people, and go in. And don't delay too long.

Writer's Bio:
Lutz Muller is a Swiss who has lived on five continents. In the United States, he was the CEO for four manufacturing companies, including two in the toy industry. Since 2002, he has provided competitive intelligence on the toy and video game market to manufacturers and financial institutions coast-to-coast. He gets his information from his retailer panel, from big-box buyers and his many friends in the industry. If anything happens, he is usually the first to know. Read more on his website at www.klosterstrading.com.
Read more articles by this author
THIS BANNER IS AN AD:
---
---