A few weeks ago, GameStop unveiled their 2012 results. The analysts attending the meeting were impressed by the very effective and highly polished presentation and the optimism and energy with which management painted the future of the company. GameStop shares have been on a tear ever since – up more than 23% in less than four weeks.


I have said for months that GameStop's situation is fraught, and recent developments tend to strengthen this conviction.

Firstly, GameStop is a retailer pigeonholed into an industry category that is in transition, and this transition is away from retail. This is how the U.S. market, GameStop's largest by far, has developed: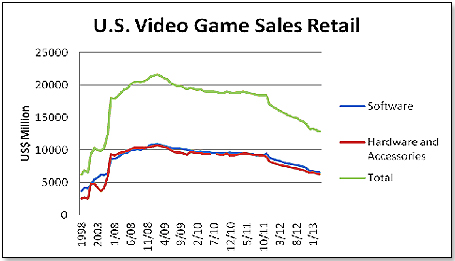 In comparison, GameStop has done much better, but it has not escaped the velocity of the market place: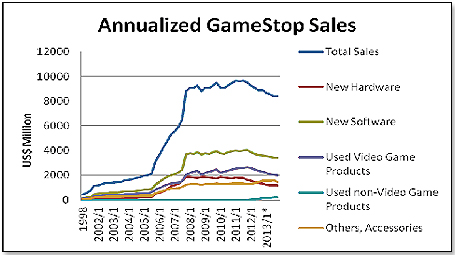 They outperformed the market itself by increasing market share – 38.2% at the end of 2011 to 47.1% in 2012. However, there is a point where market share increases become incrementally very expensive, and my friends at GameStop think that this point has pretty much been reached.

There are a couple of forces that impact the video game market and spell potential disaster for GameStop.

One is the move to digital downloads from consumers, which now represents 40% of all games sold. In contrast, GameStop's digital sales only represented about 6% of their total video game sales in 2012. And this is not a one-day wonder. Electronic Arts' COO predicted a few weeks ago that digitally delivered video games may account for 50 percent of sales by 2015 as more players migrate to tablets and smart phones from consoles. Unless GameStop manages to grab a much larger part of the digital market their sales will likely decline in line with the video game retail market.

Secondly, parallel to the erosion of the boxed game business sold at retail you are seeing an erosion of the secondary market place, a trend that has been ongoing at GameStop since the fourth quarter of 2011. The less new games are bought at retail, the less used games will be available for trade-ins. Used games are GameStop's cash cow with margins that are twice those for new games and, any negative sales developments will have a very major impact on GameStop's bottom line.

The third threat is the ongoing erosion of the console business. GameStop's hope is that the forthcoming release of the next-generation Xbox and Play Station will turn this around. I have my doubts for a couple of reasons. The first is that a similar expectation existed before the Wii U was launched and this turned into a pretty serous disappointment. This is how the first 4 ½ months shaped up for the two consoles: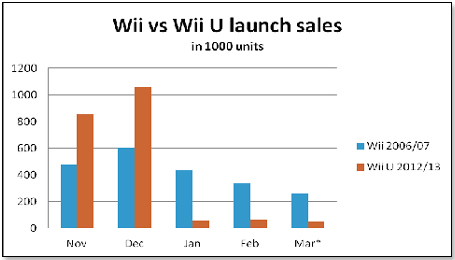 Further relevant to this picture is the fact that the Wii was in very short supply in the first six months after launch between November 2006 and May 2007. A GameStop contact of mine told me then that they could have sold double the quantity they did if they'd had enough Wii consoles to sell. In contrast, the Wii U had ample inventory from Day One to the point that retailers are now contemplating price cuts. What you were seeing then and are seeing now are the differences between consumer groups - innovators and early adopters on one side and the majority on the other - except that in the case of the Wii U the majority appears to be staying away in droves. While undoubtedly the migration of the Wii public to digital gaming as been greater that that of the Xbox 360 or PS3 fans, what haunts the retailers is the thought that you could have exactly the same pattern governing the Xbox 720 and the PS4 launches.

Another problem for the console segment of the video game market is the fact that Samsung is launching its Galaxy 4 smart phone with an unprecedented effort designed to wrest market dominance from the IPhone. Normally, this would not be something to worry GameStop. In fact, in a very recent interview with Forbes Magazine, Joe Gorman, VP for GameStop's Mobile Business, went a step further. He thought that "Samsung Galaxy S4 Will Help GameStop Grow Its Used Mobile Electronics Sales."

What he did not mention was that the Galaxy 4 will pair with a game pad that has the potential of revolutionizing the video game space. It connects with the Galaxy S4 via a Bluetooth connection, and you can also play the games on a television screen.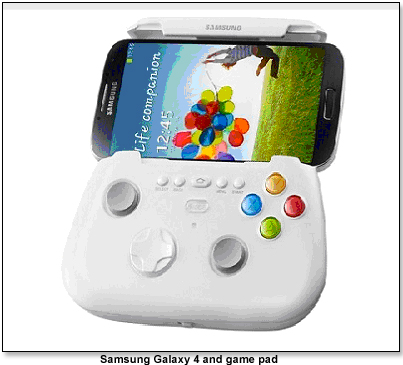 The gizmo is going to be released with eight bundled titles, and Electronic Arts will also have 16 games ready for release when the game pad hits the market. Add to this the fact that it also has the capability of running any number of Xbox 360 and PS3 games. This game pad is now scheduled for release in May and the pre-order price is $113, including eight bundled titles. However, the retailers tell me that this price is going to come down sharply as they are looking for something around $60. Compare that with the expected Xbox 720 and PS4 price of around $350 and you can see why these consoles could have a problem.



It is expected that the vast majority of the consumers will buy the Galaxy Game Pad at the same retailer where they bought the Galaxy 4 Smart Phone – BestBuy, Wal-Mart, Verizon, Target - in short, anywhere except at GameStop, which does not sell new smart phones. So, while there may indeed be a slight benefit for GameStop in used smart phone sales further down the pike, the immediate effect of the Galaxy launch will be a negative because of the game pad accessory and the effect it will have on console sales.

It seems to me that GameStop should rethink its business model from ground up. If management continues to see themselves as being in the retail video game business, they will find themselves on an increasingly slippery slope. The consumer is trending away from GameStop's core – boxed games, used games, traditional consoles – and unless GameStop is getting ahead of this trend, it will be left behind.

Or, to paraphrase things – when did you last visit your neighborhood bookstore?

Writer's Bio:
Lutz Muller is a Swiss who has lived on five continents. In the United States, he was the CEO for four manufacturing companies, including two in the toy industry. Since 2002, he has provided competitive intelligence on the toy and video game market to manufacturers and financial institutions coast-to-coast. He gets his information from his retailer panel, from big-box buyers and his many friends in the industry. If anything happens, he is usually the first to know. Read more on his website at www.klosterstrading.com.
Read more articles by this author