---
May Staff Picks
This month's staff picks include highly rated toys, from bikes to construction toys to furniture. Indoors or outdoors, these toys are sure to please.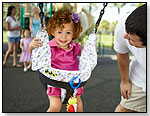 Swingin' Smart Bucket Swing Seat Protector by BABY BEEHAVIN
— Reviewers liked how this product kept their kids clean in park swings, and also how the Swing n' Smart protected their fingers from getting pinched in the metal chains that suspend the swings. Perfect for spring time.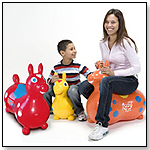 Rody Max by TMI TOYMARKETING INTERNATIONAL
— Reviewers reported that the Rody Max is extremely durable and bouncy, and encouraged their kids to get more physical activity. These toys are also great for kids who tend to get restless or rambunctious, helping to channel their energy into a fun activity.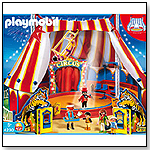 Circus Ring by PLAYMOBIL INC.
— Reviewers reported that this toy is durable, detailed, and simple to set up. Once assembled, the set also provides lots of opportunity for creative pretend play.








g-bike by KICKBOARD USA LLC
— Reviewers wrote that this bike is well made. It helps kids as young at 2 learn how to balance on a bike without training wheels, and the wheels are able to glide over a variety of terrains, rough or smooth.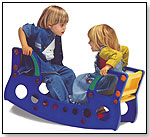 Rock 'n Table by EDUSHAPE LTD.
— Reviewers liked that this lightweight, sturdy product could convert from a seesaw to a table with easy assembly. The seesaw is balanced well enough that if one child gets off, the other won't tip back dangerously.






Learn more about these products: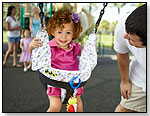 Wholesale Price: (Log in to view)Minimum Order: (Log in to view)Minimum Reorder: (Log in to view)Ships From: (Log in to view)Terms: (Log in to view)

MSRP: $39.99

Age Range: 0 to 4Specialty: Yes (as of 2012)Made in: ChinaSKU or Item #: 66179921234Gender: Boys And Girls





Swingin' Smart bucket swing seat protector has easy Velcro attachment to bucket seats and chains. The washable fabric safeguards against germs. The soft padding warms or cools seat. The rings keep toys close and secure. This product comes in a convenient, re-usable tote for take-along ease and storage. "This is the only swing protector on the market that not only gives you 360 degree protection, but also covers the swing chains which are dirty, hot, and can pinch fingers," Heather Prattas, president / QueenBee at Baby Beehavin, told TDmonthly. Launch date: May 2012.

ToyDirectory Product ID#: 34938

(added 9/10/2012)

.

AD
---






Made in Italy, Gymnic's Rody Max is a favorite with children and adults. It is the same as our popular Rody Horse, but for kids and adults (ages 5 years and up). It is used to learn balancing and coordination while hopping on their Rody. Used in Therapy for special needs children due to its softness and ride-on qualities. Made of heavy duty, latex-free vinyl. Inflates according to size and weight of child. Is surface washable with soap and water. Rody Max is available in Orange, Red and Blue.



ToyDirectory Product ID#: 19781

(added 7/11/2008)

.

AD
---




Wholesale Price: (Log in to view)

MSRP: $104.99

Age Range: 5 and upSKU or Item #: 4230Launch Date: September 2008Gender: Boys And Girls





Kids can watch trapeze artists soar through the air at this circus show. The opening of the big top is adjustable, and the diameter of the Circus Ring is 22.5". The set also includes seven figures, ticket booths and a seating area that fits approximately 30 visitors. It requires two AA batteries. The set also features "a durable fabric tent," Playmobil Inc. Advertising and Marketing Manager Michelle Winfrey told TDmonthly. Launch date: September 2008.
— Gail Grabish, owner of a Pocketful of Toys in O'Fallon, Mo., liked the fact that the Playmobil Circus theme offers "a complete set, but then additional elements can be added." She and two other retailers, out of 24 surveyed, named this product as a Toy Fair 2008 favorite.

ToyDirectory Product ID#: 16615

(added 12/18/2007)

.

AD
---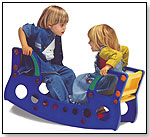 Wholesale Price: (Log in to view)Ships From: (Log in to view)Terms: (Log in to view)

MSRP: $100.00

Age Range: 2 to 5Specialty: Yes (as of 2012)Made in: IsraelSKU or Item #: 700070Gender: Boys And Girls





Edushape's new Rock 'n Table is an adorable play table for two toddlers, but turn it upside down and it instantly converts to a see saw. Brightly colored and extremely sturdy, it is a toddler's dream for both indoor & outdoor play. Launch date: August 2012.

ToyDirectory Product ID#: 34556

(added 7/5/2012)

.

AD
---
Catalog Request Form
THIS BANNER IS AN AD:
---
---