---
2013 Holiday Toy Preview
The skies are blue, the weather is getting warmer...and savvy retailers know that this means it's time to start planning for the Holidays. That's why TDmonthly asked toy manufacturers to share with us the products that they think will be big holiday hits for 2013.


Take a look at the products below, then decide which would be a good fit for your store.

Infant, Toddler and Preschool

Following the success of their Twilight Turtle, CLOUD B is excited about their new, award-winning Tranquil Turtle. "Tranquil Turtle is the perfect gift to relieve holiday stress and provide little ones with a good night's rest. The holidays are little merrier when children and parents can sleep through the night. This fun seaside character projects a magical underwater light effect and plays soothing melodies proving to provide a calm and relaxing environment," Chris Curso, associate marketing manager at Cloud B, shared with TDmonthly.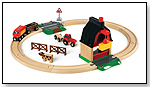 A train set chugging around the Christmas tree is a classic holiday scene. Start the tradition for your little ones with SCHYLLING's new Brio Farm Railway set. This wooden railway for kids 3 and up "is an excellent gift for the holidays because it features recognizable features that children can relate to, allowing them to create their own open-ended storyline for endless play with a high quality product," Samuel Mauro from Schylling explained.

Crafts and Kits

Toolbox Jewelry from KLUTZ is a fun new product that will keep kids busy throughout their holiday break. The kit includes supplies and instructions for making jewelry out of hardware, like nuts and washers, along with more traditional supplies like cord, beads, ribbon, and more. The finished products are great gifts for friends and relatives.

For sending holiday cards or thank you notes, THE ORB FACTORY has unveiled their Etch-N-Press™ Cards and Prints kit. "Whether they're sending a special holiday card to their grandparents or learning just how to create the perfect thank you note, Etch-N-Press™ Cards and Prints makes it a breeze for the youngest of crafters. This unique set incorporates custom stencils, paint and foam," Stephanie Carver, marketing manager for The Orb Factory, told TDmonthly.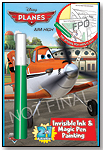 Lots of families travel during the holidays, and LEE PUBLICATIONS' Disney Planes: Aim High Invisible Ink and Magic Pen Painting 2 in 1 Activity Book is the perfect item to keep kids occupied on trains, planes, or automobiles. This mess free activity book "is a great stocking stuffer during the holiday season," and is "jam-packed with activities at a low retail price point," Stacey Ricci from Lee Publications shared.

Construction

Toys that can be played with over and over again are a favorite of kids and parents alike. With MODULAR TOYS USA building sets, kids can build and rebuild different versions of 3-D racetracks, castles, train sets, and more. "Our whole system enables the child to experiment with their own intuition and learn to build better over time without the use of a guide book or computer," Steven Pechter from Modular Toys explained. The building sets come in bold primary or bright pastel colors, making them perfect for any boy or girl with a predilection for creation.

Games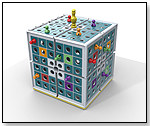 Invented by 16 year-old ChiTAG Young Inventor Challenge Winner Nicholas Metzler, PlaSmart says that Squashed is bound to be one of their holiday best-sellers. The game features a 3-D game board, die, pawns and more for 204 players. Squashed is "a superb gift, because the entire family can enjoy this exciting, easy-to-play, 3D game," Virginia Merritt, marketing coordinator for PlaSmart, told TDmonthly.

Educational


LITTLE PIM

is excited about their

Spanish Intro Gift Set with Book

, a fun educational system that helps young kids learn a second language. "The first six years of a child's life are the most important when it comes to brain development...it's the perfect time to learn another language. Little Pim is also a great travel companion for the holidays and children will carry our cuddly panda wherever they go," Claire Lynch from Little Pim told

TDmonthly

.


Dolls and Plush

Building off of their latest plush line, BRYBELLY HOLDINGS INC expects their Sock Monkey Family Limo to be a big holiday hit. These dapper sock monkeys are dressed as wedding guests, and with festive packaging that can be incorporated into kids' pretend play, this toy would look great under the tree. The set includes six sock monkeys total, making this an ideal gift for siblings to share.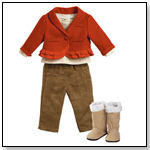 Dolls are a classic holiday gift for kids and collectors alike. Adora Friends dolls are perfect for pretend play, and emphasize the importance of friendship with the included friendship bracelet. Seasonal outfits are also available for the dolls, including a cute number (shown right) that features cozy corduroys, a bright jacket, and warm, fur-lined boots. "Adora Friends and outfits are great for the holidays because they can be bought as a set…two gifts in one, more play value," Megan Berlett from Charisma Brands explained to TDmonthly.

Seasonal

For 2013, AURORA WORLD is introducing several new holiday editions of their popular YooHoo & Friends plush animals. Montee™ Moose, Wuskee™ Husky, Jolley™ Reindeer and Genee™ Penguin are all under $10, and they make a sound when they're squeezed. "This is a fresh, seasonal take on our best selling product line. YooHoos make a great stocking stuffer, and won't break the bank. They also make fun sounds when squeezed, giving this item additional play value," Dan Grody, a rep for the company, told TDmonthly.

GUND's beloved Boo plush is getting a holiday makeover for 2013. The Boo with Santa Hat will appeal to Boo's online fan network of more than 6.8 million people, as well as animal lovers of all ages.

Whether you stock your store with crafts or construction, preschool toys or plush, these toys offer something for every customer's holiday needs. Take a closer look at the products below, then decide which ones you think will be a hit for your holidays.







Aurora's most popular plush animal line, YooHoo & Friends (23 million plus sold), sees an epic expansion for 2013 to include these everyday and holiday themed YooHoo & Friends. Meet Montee™ Moose, Wuskee™ Husky, Jolley™ Reindeer and Genee™ Penguin. Each YooHoo makes a secret sound when squeezed and new hangtags describe the character in detail. Launch date: April 2013.

.

AD
---






Toolbox jewelry is the first ever hardware jewelry kit that teaches kids how to make amazing industrial jewelry from the provided shiny nuts, star washers, fasteners with cord, satin ribbon, beads, and earring wires. Simple instructions transform these practical thingamajigs into super chic ­- and surprisingly pretty - jewelry. It's the perfect combination of functional and fabulous. Comes with 60 page book of instructions, over 200 nuts, washers and fasteners, three colors of cord, earring wires, beads, two colors of ribbon, resealable storage trays, slide-out work surface. Launch date: August 2013.

.

AD
---






GUND's Boo, The World's Cutest Dog is now the world's cutest holiday plush. With over 6.8 million Facebook fans, Boo is recognized by fans worldwide. GUND's version of Boo is the spitting image of the wildly popular Pomeranian. He is 9" and made of only the finest and softest fabrics. Boo with a Santa Hat is perfect for Boo fans of all ages. With over 6.8 million fans, he is the "must have" of the season. Launch date: March 1, 2013.

.

AD
---






Roll the die and strategically eliminate other players by Squashing them one pawn at a time. Or, flip the cube for a total wipeout. Be the last pawn on the Squashed™ cube to win. Invented by ChiTAG Young Inventor Challenge Winner, Nicholas Metzler, when he was just sixteen.

.

AD
---






.

AD
---






What makes this a great gift item for the holidays?: The Sock Monkey Limo is perfect for any child. A new twist on a classic toy, this product is the latest addition to Brybelly's line of Sock Monkey Family products. Featuring an adorable wedding theme, these stylish monkeys are dressed in their best as they take a ride in their pink limo to witness the marriage of Princess Penelope and Sammy Sarsaparilla. Housed in a creative limo-shaped box with cutouts for each monkey, children can enjoy hours of creative play as they use the actual packaging to play with the toys. The monkeys in the set are dressed in traditional wedding apparel, such as a bridal gown, tuxedos, etc. Each set comes with a total of six monkeys: Princess Penelope (Bride); Sammy Sarsaparilla (Groom); Minster Mook (Minister); Myles (Chauffer); Ava (Flower Girl) and Brayden (Ring Bearer).

.

AD
---






The Modular™ Dream Palace Construction Kit takes a unique approach, allowing true three-dimensional architecture to be constructed. The game develops abstract thinking, three dimensional perception, and creativity. Compatible with other "Modular™ Toy Construction kits". Watch and participate with your children while they're thinking, planning, and building in all three dimensions. Age 5 and up.

.

AD
---






.

AD
---






.

AD
---






.

AD
---






.

AD
---






.

AD
---






Etch-N-Press lets you make creative greeting cards, pretty posters and awesome artwork. Use the etching tool to create cool deigns on foam shapes. Add paint to the roller and roll it over the foam template. Press the foam template, paint side down, onto a piece of paper to leave a mirror image of your design.

.

AD
---
THIS BANNER IS AN AD:
---
---