EzyRoller - Pink
by
EZYROLLER LLC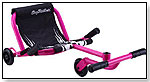 This sleek ride-on is fueled by cambering motion — the rider pushing his or her legs against the front bar, to the left and right. It has a hand brake and features an extendable design to host riders up to 6' tall. Maximum recommended weight is 150 lbs.
— Learning Tree Toys, Games & Books in Oklahoma City, Okla., sells about a dozen EzyRollers per month, Owner Patti Tepper-Rasmussen told
TDmonthly
in fall 2009.
— Jackie Roy, owner of Learning Resources Toy Magic in Fort Walton Beach, Fla., told
TDmonthly
in late 2009 that she brought in five EzyRollers on trial on sold out in a week and a half.
— Two of 37 specialty retailers cited the EzyRoller as a top-selling ride-on in spring 2010. "The EzyRoller, by far, continues to be the best," Christine Osborne of Wonder Works in Charleston, S.C., told
TDmonthly
in March 2010, reporting sales of a couple dozen per month.
Past Videos:
WTHRA 2008
(

Watch Video)
11/3/2009 (Price: $99.95)