February 2016 New Specialty Toys — Action Figures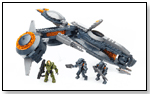 The UNSC will be diving for cover with the arrival of the Phaeton Gunship by Mega Bloks Halo! Used by the Forerunner Prometheans in their long war against the virulent Flood, the Phaeton once again takes to the skies. Build the Phaeton and support the two Promethean Soldiers as they try to prevent a brave Spartan from getting a lock on the Phaeton with her rocket launcher! Ideal for ages 8 and up Features: Buildable Forerunner Phaeton, featuring front turret and two heavy beam cannon arrays Includes a highly detailed, super-poseable, UNSC Spartan and two Promethean Soldier micro action figures Spartan micro action figure features detachable Orbital armor and authentic Pilum Rocket Launcher weapon accessory Promethean Soldiers can be armed with a Boltshot and Binary Rifle weapon accessories Collect and combine with other Mega Bloks Halo sets to build your own authentic Halo universe!
ToyDirectory Product ID#: 37450
(added 11/6/2015)
.
Kramm is the Weldos' energetic leader and foreman. With a jackhammer arm and a strong hand with huge fingers, Kramm expects everyone on the team to work hard. Really hard. Dribbal is a know-it-all Mixel who actually knows very little! With horn-rimmed glasses and a superior manner, this goopy Glorp Corp member can talk and talk and dribble some serious snot. Snax is a big, wide-eyed kid with a serious appetite! Like all the Mixels Munchos tribe, Snax just loves to eat and is great fun to hang out with.
ToyDirectory Product ID#: 37446
(added 11/3/2015)
.
Since 12/28/04 people have visited this page.