July 2015 New Specialty Toys — General Games
Professor Sense Sizzler's Volcano Puzzle is hot, hot, hot - and when you solve the puzzle we guarantee that you will lava it! Place the lava inside the volcano (point upwards!)then place the puzzle on a flat surface. Can you work out how to remove the lava without touching the volcano?
ToyDirectory Product ID#: 37363
(added 7/29/2015)
.
Pickles to Penguins is the quick-thinking picture-linking party game! Don't fret if the party gets frantic - the guests are probably just having a blast playing Pickles to Penguins - the frantic party game where you link the pictures to win. Get rid of your cards the quickest by figuring out what your cards and the cards in play have in common. Do they share a colour? Are they both things you find in a salad or bring to a party? Exercise your lateral thinking abilities, but don't be too hasty or you may have to pick up penalty cards for stretching a connection too far. Take a deep breath and let the chaos begin! Hundreds of pictures, but how many can you link together?
ToyDirectory Product ID#: 37359
(added 7/29/2015)
.
Seventy-five million years ago, there really were sea monsters, and this long-necked Elasmosaurus from was one of them. Wild Safari® Dinosaurs and Prehistoric Life were created for the dinosaur lover in all of us. Each Safari Ltd® hand painted figure is designed to stimulate the imaginations of children of all ages.
ToyDirectory Product ID#: 37352
(added 7/20/2015)
.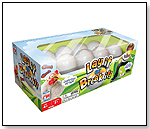 2 players compete in this game to help the chicken save her eggs! The farmer has collected the eggs and is ready to cook them. Players wear a plastic chicken beak, and attach a magnetic chicken clamp to their pants. Both players compete at the same time and, without using hands, remove the eggs one-by-one from the frying pan and transport them to the safety of the nest. If an egg falls and breaks, the player must start over. The player that collects the most 'unbroken' eggs in their nest the WINNER.


ToyDirectory Product ID#: 37340
(added 7/2/2015)
.
Age Range: 3 to 7
Specialty: Yes (as of 2015)
SKU or Item #: 31962
Gender: Boys And Girls
This is a fun magnetic game and part of Miniland's new 2015 On-The-Go collection. With Crazy City you use your memory to combine the pieces on the city streets, and then check that the models are the same as those on the outer board. This new collection comprises 6 crazy magnetic games. These are games of association with a large dose of imagination and excitement. Their format and design make them ideal for taking them wherever you go and for playing without limits. Made for children 3-7 years old.
ToyDirectory Product ID#: 37300
(added 4/28/2015)
.
Since 12/28/04 people have visited this page.