July 2015 New Specialty Toys — Science & Nature
Specialty: Yes (as of 2015)
Create your own lava lamp through chemical reactions. Drop the special fizzy tint tablets in to the beaker and watch as the "Lava" bounces up and down just like a Lava Lamp.
ToyDirectory Product ID#: 37365
(added 7/31/2015)
.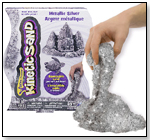 Discover the sand that shimmers in your hand! The all-new metallic Kinetic Sand assortment comes in shimmering Silver and Gold! And with 1lb of Metallic sand the creative possibilities are endless. This soft and stretchy sand easily cleans up while delivering non-stop fun! It's squeezable sand you can't put down. Feel the difference with Kinetic Sand!
ToyDirectory Product ID#: 37361
(added 7/29/2015)
.
Wholesale Price: (Log in to view)
Real Holograms - You can make holograms right in your own home or classroom! Step-by-step instructions make the hologram process easy, educational, and fun!

Litiholo C-RT20 film is a holographic film for making holograms with no chemicals and no development processing.

Everything you need to make real 3D laser holograms - it's so simple, you could be making your first hologram in about an hour! Best of all, with the Litiholo "Instant Hologram" Film Plates, you spend all your time making holograms, not developing them.


ToyDirectory Product ID#: 37342
(added 7/6/2015)
.
The Volcano Experience Kit is a multi-activity kit that has enough to keep anyone interested in volcanos busy. Each kit allows you to mold and paint a model volcano that can actually erupt. You can also dig out rock specimens and identify the igneous rocks with the educational booklet.


ToyDirectory Product ID#: 37339
(added 7/2/2015)
.
The Praying Mantis is a fascinating insect with more than 2400 species in the world! With the Backyard Safari Mantis Mansion, you can watch the amazing life cycle of these unusual creatures, and you may even see some intense "preying" action! It's easy to set up and it even includes a coupon for ordering praying mantis online. The Mantis Mansion features the exclusive collectable Bug Wrangler: Mantis patch and pop-up field guide!
ToyDirectory Product ID#: 37319
(added 5/28/2015)
.
Since 12/28/04 people have visited this page.