December 2014 New Specialty Toys — Wooden Toys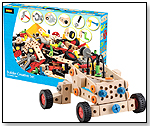 Specialty: Yes (as of 2014)
Gender: Girls
Build, create and build again! This large set features 270 pieces including a hammer, screwdriver, pliers and wrench! A fun way to practice hand/eye coordination. Package measures 22" x 16" x 3.75".
ToyDirectory Product ID#: 37042
(added 11/14/2014)
.
Explore the outer limits of your creativity with various patterns to choose from. This set includes 1 handle with 2 interchangeable rollers, 3 various pattern designs, a rolling pin and a dough cutter.
ToyDirectory Product ID#: 37036
(added 11/14/2014)
.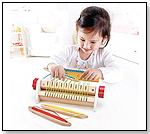 Make the shuttles go zip and zoom as you weave your very own design. Talk about the way cloth is made. Look at different kinds of fabric.
ToyDirectory Product ID#: 37031
(added 11/13/2014)
.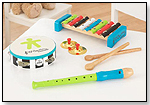 Let the music begin! Our Lil' Symphony Band in a Box puts four fun musical instruments into one convenient package. Includes 2 cymbals, 1 recorder and 1 tambourine. Made of composite wood materials.
ToyDirectory Product ID#: 36955
(added 9/22/2014)
.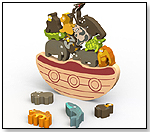 Kids develop dexterity, patience and pretend play skills with the BeginAgain Balance Boat. Inventing their own games and stories, kids will stack the brightly colored endangered animals as high as they can, balancing them atop the 6"x12" wooden boat. The animals are also perfect pocket pals, starring daily in pretend adventures. Made from eco-friendly rubber wood with non-toxic, child-safe stains, each of the 15 pieces in this playset is double-sided and one inch thick. Recommended for ages 3+, the Balance Boat includes a 14" x 12" wood tray for storage and display.


ToyDirectory Product ID#: 36945
(added 9/22/2014)
.
Since 12/28/04 people have visited this page.