December 2015 New Specialty Toys — Collectibles
Kramm is the Weldos' energetic leader and foreman. With a jackhammer arm and a strong hand with huge fingers, Kramm expects everyone on the team to work hard. Really hard. Dribbal is a know-it-all Mixel who actually knows very little! With horn-rimmed glasses and a superior manner, this goopy Glorp Corp member can talk and talk and dribble some serious snot. Snax is a big, wide-eyed kid with a serious appetite! Like all the Mixels Munchos tribe, Snax just loves to eat and is great fun to hang out with.
ToyDirectory Product ID#: 37446
(added 11/3/2015)
.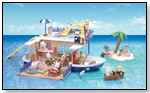 Specialty: Yes (as of 2015)
Welcome aboard the Seaside Cruiser, a fun house boat perfect for holidays or a weekend away! The house boat has lots of fun features including paddling pool, water slide, deckchair and parasol. Inside there are kitchen units, a table & chairs and bunk beds which can be transformed into a shower cubicle Includes Freya Chocolate rabbit dressed for ocean adventures. This set includes a mini boat to help your sylvanians get to shore without getting their paws wet, as well as their very own secluded island to visit. The side of the boat folds down to create more space, and you can slide right into the ocean.
ToyDirectory Product ID#: 37412
(added 9/30/2015)
.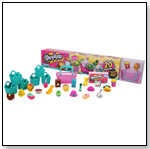 The Shopkins Mega Pack makes it easy for girls to stock up on their favorite characters! Featuring multiple characters and shopping bags, shopping basket and a collector's guide, this pack gives girls everything they need to complete their Shopkins world. Girls should be on the lookout for Ultra Rare or Limited Edition characters. Shopkins fans should shop to it now and avoid the rush at the check-out!
ToyDirectory Product ID#: 37402
(added 9/30/2015)
.
Since 12/28/04 people have visited this page.