December 2015 New Specialty Toys — Infant & Toddler
If you are looking for a great cuddle partner for your little one look no further! These adorable and ultra soft giraffes come in 8 styles in four unique sizes, each having its own interactive component including rattles, crinkles and squeakers.
ToyDirectory Product ID#: 37455
(added 12/10/2015)
.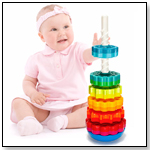 This stacking toy also spins. When colorful discs are dropped on the threaded corkscrew pole, they spin all the way down. The base can be used either flat for a steady base, or turned over for a wobbling base that adds an extra challenge (and extra fun).
ToyDirectory Product ID#: 37445
(added 11/3/2015)
.
This happy stuffed product is designed for baby gift, the sun, the star all are carefully added to pleased baby.
ToyDirectory Product ID#: 37443
(added 10/30/2015)
.
Your child can rock out and learn with the VTech KidiBeats Drum Set. This drum set for kids comes with a pair of drumsticks that can be used to tap the four different electronic learning drums. Your child can drum freestyle or play along to nine pre-set melodies in a variety of musical styles. Or for more structured play, they can follow the lights on the drums as they learn about letters and numbers. With four ways to play and a variety of fun sounds, your child will love learning to the music with this educational toy.
ToyDirectory Product ID#: 37427
(added 10/26/2015)
.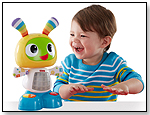 A press of BeatBo's tummy or any of the buttons on his feet activates fun songs, learning content and dance moves. This futuristic friend even allows mommy or baby to record a phrase, and he'll remix it into his favorite song! His 3 modes - Dance 'n Move, Learning & Games, and Customized Sing-Along - "grow" with baby to make him a fun, entertaining companion for years to come! And all the while, he's introducing baby to letters, colors, counting, music, cause & effect and much more!
ToyDirectory Product ID#: 37403
(added 9/30/2015)
.
Since 12/28/04 people have visited this page.