December 2015 New Specialty Toys — Musical Toys
The 37 Key Digital Baby Grand Piano is a twist on Schoenhut's traditional baby grand pianos. Same patented body design, same sturdy structure, but we've added some enchanting design elements, and plugged in an electronic sound board! This digital piano will mimic true piano sound and is an excellent learning tool for young musicians. As with traditional Schoenhut pianos, the Digital Butterfly includes full width keys to learn proper finger placement, as well as our patented Tri Play Learning system. As an upgrade for our digital model we're including 2 more learning systems to advance skills – Piano Key stickers that reflect the musical notes. The ability to connect apps and expand the play experience is really what sets this piano apart from all others. Download any piano learning app and the piano will play through your device! Download Karaoke app, and use the included microphone to sing along to the words on your device screen. Velocity Keys, 5 different instrument sound functions, Demo songs, and Record/Playback for up to 700 notes. Features opening butterfly style lid, 37 velocity keys and 3 separate learning systems.
ToyDirectory Product ID#: 37462
(added 12/30/2015)
.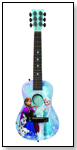 Playing music is powerful! This beginning guitar is designed and sized especially for young players. The guitar is adorned with sisters Anna and Elsa from Disney's Frozen, and it features great tone, comfort and playability. Low string action means easy playing for beginners. Patented string post covers protect little fingers, with stickers to show string names. Learn-A-Chord cards let you start playing right away.
ToyDirectory Product ID#: 37432
(added 10/26/2015)
.
Your child can rock out and learn with the VTech KidiBeats Drum Set. This drum set for kids comes with a pair of drumsticks that can be used to tap the four different electronic learning drums. Your child can drum freestyle or play along to nine pre-set melodies in a variety of musical styles. Or for more structured play, they can follow the lights on the drums as they learn about letters and numbers. With four ways to play and a variety of fun sounds, your child will love learning to the music with this educational toy.
ToyDirectory Product ID#: 37427
(added 10/26/2015)
.
Since 12/28/04 people have visited this page.