June 2013 Notable Toys — Puzzles & Skill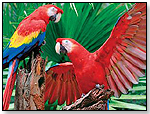 What's better than one Scarlet Macaw? Try two, especially when one has wing's fully spread. If you love wildlife, the vibrant hues of these extra large parrots will dazzle you. This is nature at its best: rich color and exotic plumage make this Family Format® puzzle something the entire family can talk about. 400 Piece Jigsaw Puzzle. Family Format is a unique line that combines three completely different puzzle sizes into one puzzle, so that it is especially fun for family members of different ages to work together.
ToyDirectory Product ID#: 36264
(added 6/26/2013)
.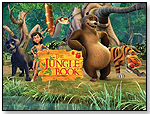 Based on Rudyard Kipling's The Jungle Book, Disney's new cartoon series captures all the adventure and fun as do Springbok's new, companion Jungle Book puzzles for Springbok Kids. Shere Khan prowls the jungle forest, always on the hunt, just like Kaa, the mighty python. In the middle of this danger is Mowgli, the very tasty "man cub," watched over by his best friends, Baloo, the bear, and Bagheera, the panther. This puzzle brings them all together in one colorful and charming "paws" in the adventures. 60 Piece Jigsaw Puzzle. These puzzles, designed especially for children age 4-10, come in three styles that specially accommodate a young child's rapidly growing skills. We even have a parent's guide book that comes with our Springbok Kids products for parents of younger children.
ToyDirectory Product ID#: 36263
(added 6/26/2013)
.
A set of five stackable wooden crocodiles.
ToyDirectory Product ID#: 36247
(added 6/18/2013)
.
Specialty: Yes (as of 2013)
Cubebot is a range of playful wooden robot puzzles that challenges and inspires children and adults alike. Available in an assortment of shapes, sizes and colors, each Cubebot holds dozens of poses. After playtime, Cubebot offers the challenge of trying to fold it back into its perfect cube. Robot toys are usually made of plastic and require batteries - but not Cubebot! Cubebot is made from new growth beech wood and is powered by imagination. Inspired by the Japanese Shinto Kumi-ki puzzles, Cubebot combines ancient Japanese traditions with contemporary toy culture. It is an enduring classic that will withstand generations of play. Available in Extra Large, Medium, Small, Micro, as well as a choice of finishes: Natural, Blue, Green, Multi, Orange, Pink, Red, Violet and Yellow. Recommended for ages 3+.
ToyDirectory Product ID#: 36245
(added 6/18/2013)
.
Candies come in numerous colors and varieties and have a long history. The word candy began to be used in the late 13th Century, coming into English from the French "çucre candi." Candy is made by dissolving sugar in water or milk to form a syrup, which is then boiled until it reaches the desired concentration or starts to caramelize. The resulting type of candy depends on the ingredients and how long the mixture is boiled. As the syrup is heated and boils, the water evaporates, the sugar concentration increases and the boiling point temperature rises. A given temperature corresponds to a particular sugar concentration. In general, higher temperatures and greater sugar concentrations result in hard, brittle candies, and lower temperatures result in softer candies. The candy business underwent drastic changes in the 1830s when technological advances and the greatly increased supply of sugar reduced its cost and opened up the market. Confectioners no longer supplied candy only to the wealthy, but to children, as well. The village candy store became a favorite of children of the American working class. Penny candies epitomized this transformation of candy, and candy became the first product on which children spent their own money. For this reason, candy store owners often relied almost entirely on the business of children to stay in business. Today the global sales of candy are about $60 billion.
ToyDirectory Product ID#: 36124
(added 3/20/2013)
.
Since 12/28/04 people have visited this page.