December 2015 Notable Toys — Preschool
An endangered species worthy of attention, the MINI MONK SEAL finger puppet is so sweet and soft that she'll swim to the depths of your heart.
ToyDirectory Product ID#: 37461
(added 12/30/2015)
.
Help develop fine motor skills. Toss the dice to see what color you get, then choose an animal that have the same color as the one you rolled. The player that can balance the animals on the boat using the pincers without making it fall is the winner. The set consists of a boat, 6 pairs of animals, a dice, and a pincers. Ideal for 1 to 4 players.
ToyDirectory Product ID#: 37459
(added 12/30/2015)
.
Fashion! Cute! Lovely! Go school, Go travel, Go shopping, kid need this, he'll be the coolest one!
ToyDirectory Product ID#: 37439
(added 10/30/2015)
.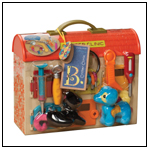 Our B. Critter Clinic features a hospital with 6 private rooms, 2 cute plush patients, color match keys and 5 tools. The stethoscope, mirror, syringe, tweezers and thermometer give you everything you need to make your "critter" all well.
ToyDirectory Product ID#: 37429
(added 10/26/2015)
.
The Trix Track Cat & Mouse Track is more than a classic wooden ball run with fun and exciting eye-catching tricks and an easy locking system that keeps your creations stable while you build your maze. With your imagination there are endless configuration possibilities! The Trix Track Cat & Mouse Track includes exciting new blocks that add an entirely new dimension to Trix Tracks which allow you to build faster and higher than ever before. Watch the mouse chase after the cheese thru many obstacles and the challenge of big cat waiting at the end of the track! Trix Tracks help understand the cause and effect relationship. Specially designed bricks are made from a combination of eco friendly recycled saw dust and food grade plastic so it is safe, durable and good for the environment. Combine with other Trix Track sets to create even larger tracks, more trix and endless fun!
ToyDirectory Product ID#: 37408
(added 9/30/2015)
.
Since 12/28/04 people have visited this page.