TDmonthly Product Review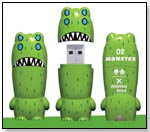 Name: Monster
Company: MIMOCO INC.
Age: 10 and up
Price: $69.95
Category: Electronics

What Is It?
A computer device cleverly disguised as a monster, this is a limited-edition designer flash drive that makes collecting data ultra-chic. All Mimobots have their own personalities and hobbies. They come in well-designed, attractive packaging along with some fun stuff, such as wallpapers, already stored on the drive. Compatible with both Mac and Windows, Mimobots comes in 256MB, 512MB, 1GB and 2GB versions (with price ranging from $69.95 to $144.95).

What We Thought
This super-cool monster works just like any other USB drive. Monster looked funny when plugged in, though because it looked like s/he (Monster´s sex is unknown) had plunged its head into the computer, searching for data. The Monster´s head is screwed on pretty tight — it is hard to remove the cap when it´s clicked in. Monster was smaller than expected, too, which is a good thing in this case. However, if you have two USB ports adjacent to each other, it may be hard to fit a second USB device.

Why They´ll Want It
This is a trendy and highly collectible item. So trendy that Mimobots are on MySpace! It is a must-have for all the coolest nerds of (almost) all ages! — TDmonthly Review Team, 9/21/06

Learn more about Monster

See other products by MIMOCO INC.


---
Search Toy Review: