TDmonthly Product Review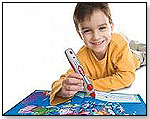 Name: Poingo
Company: PUBLICATIONS INTERNATIONAL LTD.
Age: 3-7
Price: $34.99
Category: Books

What It Is
Poingo is a system designed to make reading books an interactive experience for children. When the Poingo pen is touched to select text and pictures on the pages of Poingo books, it responds with sound, music or words — even questions to get kids more involved in the story or complementary activities on the pages. Book titles include "Finding Nemo," "Cars" and other licensed stories from Disney.

What We Thought
Poingo definitely has a "wow" factor that catches children's attention. After all, how many books talk back to you? A 4-year-old girl who tried out Poingo really enjoyed the interactive pen and soundbooks, and especially liked the side games and voices used. She had a little trouble with the directions on her own, but was able to get more out of it with an adult there to explain. Her older sister, 7, most appreciated the feature that allows you to click on the highlighted words and hear a definition. At her age, however, she found the constant repetition (e.g., "How many splashes do you hear?" in a game in the "Nemo" book) annoying and would prefer more grown-up stories.

Why They'll Want It
While Poingo isn't likely to replace old-fashioned reading, it does provide a novel alternative that offers a short-term activity allowing kids to explore stories in a whole new way. — TDmonthly Staff 11/14/08

Learn more about Poingo

See other products by PUBLICATIONS INTERNATIONAL LTD.


---
Search Toy Review: