Products from THE WEEKEND FARMER CO.
THIS BANNER IS AN AD:
---


View: By latest product added | By earliest product added



Below are a select number of products from THE WEEKEND FARMER CO.



---
Hay is for Horses™ is a fast paced card game that is sure to be an instant classic in any home. This first installment from the Do Your Chores Series™ makes players responsible for feeding horses and cleaning their stalls. Do it faster than your neighbor and the horse cards are yours. The player who claims the most cards wins. With Hay is for Horses™ doing your chores is always FUN! Ages 6 and Up. For 2 Players.
ToyDirectory Product ID#: 19044
(added 5/23/2008)
.
Fix the Fence™ is a fun and challenging memory game. Players flip cards over to reveal the hidden fencing supplies. Look for matching fence posts or wire cards to help mend a section of downed fence. Find a match and place it on your mat. If you cannot use the card turn it face down and remember its location. If you can't…then the other players will. Watch out for broken fence cards. Be the first player to fill your mat and Fix the Fence™.
ToyDirectory Product ID#: 19043
(added 5/23/2008)
.
Try your luck at the Race Track. Ride a Buckin' Bronco. Enter a Barrel Race. Jump obstacles on The Steeple Chase or test your Horse knowledge with Triva. Whichever challenges you choose there will be cash prizes to be won. Work your way up the ranks in the Amateur Circuit with the hopes of earning huge cash prizes on the Professional Circuit. Ages 7 and Up.
ToyDirectory Product ID#: 19042
(added 5/23/2008)
.
THE CONSTRUCTION GAME™, gives players a first hand try at making it big in the world of big equipment and big deals. Bid on jobs, buy dozers, backhoes, excavators, and scrapers, then put them to work. Build slowly or borrow your way to the top! There is no free lunch served at the job site. Be the biggest contractor in the valley.
ToyDirectory Product ID#: 15077
(added 9/6/2007)
.
FARMING GAME KIDS™, helps develop skills in addition, subtraction, counting money, reading simple charts, and that most important lesson in farming, keeping a stiff upper lip when things aren't going just right. For players ages 3—9 with three different playing levels.
ToyDirectory Product ID#: 15076
(added 9/6/2007)
.
The Farming Game®
TDmonthly rating:

(
Read Review
)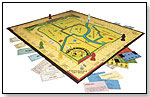 The Farming Game is the "game invented on the seat of a tractor." Players start with a job and a farm. The first player who can quit his job and run the farm full time wins. Along the way, players roll the dice to try to buy equipment while avoiding drought and market fluctuations. Side deals with other players add to the intrigue. The game is educational enough to be used in schools, while fun enough to be played by all members of the family.
— When asked about best-sellers in her store, Shanna Frieling, owner of Giggles Toys & More in Bozeman, Mont., said, "The Farming Game by The Weekend Farmer."
— The game shows "all the risks and benefits of running a small business," said
TDmonthly Roundtable
Reviewer Kostadinka Lilova, whose daughter Radina (11), was "very enthusiastic about playing."
ToyDirectory Product ID#: 11458
(added 2/19/2007)
.