---
Farming Game Sows Biz Principles in Young Minds
Moms and Teens Appreciate Game's Educational Play
"[The Farming Game] gives you a huge sense of accomplishment." — Kent Christensen (13)

TDmonthly Magazine's Teens and Tweens Roundtable appreciated the realism and educational emphasis of The Farming Game by The Weekend Farmer Co., finding it somewhat complicated, but enjoyably engaging.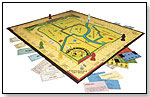 The Farming Game® by THE WEEKEND FARMER CO.
Age: 10 and Up
Gender: Boys and Girls
Category: Board Games
MSRP: $34.95

TDmonthly rating: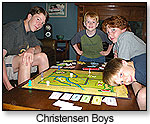 What It Is: The Farming Game puts the business of farming in a traditional board game format. Players start with a day job and in debt. As play progresses, they raise crops and livestock and, hopefully, income. The first player who has earned enough money to quit his day job and operate the farm full time, wins. Stumbling blocks along the way include natural and financial disasters (from drought to market fluctuations), and deals between other players.

What the Moms Thought: "I liked that it introduced my kids to the business of farming," Christensen commented. Thomas agreed: "It helps kids to understand about farm life." Lilova said, "The game makes kids think fast, choose the right game strategy and learn how a business runs." Ledford called The Farming Game "a fun introduction to business and economics for the right age group (middle school students)." Jenkins called the packaging "attractive." Wilson said The Farming Game was "an invaluable learning tool" about realistic situations.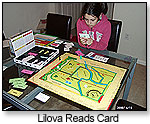 What the Kids Thought: "Mac (14) liked that it was rewarding and somewhat realistic," reported Christensen. Kent (13) said, "It gives you a huge sense of accomplishment." Both enjoyed the game and have played it several times since.

Radina (11) "is very enthusiastic about playing," noted Lilova. "The game makes her do calculations and think, which she enjoys." Victoria (13) found the instructions "dry" and had to explain them several times for her brother Joe (8, below the recommended age). "It would have been more fun for her if she had played it with a child of her own grade level," Ledford admitted.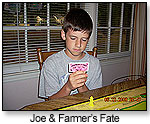 "It was a little hard for us, because we don't know much about farming, but they liked the idea of the game," said Jenkins. At the Wilson household, the children "liked that everyone could improve their position without having to cause another player setbacks," commented Wilson. "They encouraged each other to build better farms."

The Thomas children enjoyed "the little figurines and the money," Thomas said.

What the Kids Learned from this Toy: Christensen's sons learned new vocabulary (such as "overleveraged property" and "crop futures") and "were introduced to many aspects of business and banking," she pointed out. She noted that this appealed most to her 14- and 13-year-old sons, and not at all to her 10- and 7-year-old sons.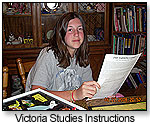 By simply reading the instructions, Timothy (15) and Andrew (12) "learned a lot about farming," Wilson reported. "They also can now associate higher grocery prices with events in the news (flooding, drought, etc.)." Mac (14) commented that he learned "how hard it is to be farmer." Thomas said her children learned about the uncertainties of farm life.

After playing the game several times, Victoria (13) concluded, "A farmer's fortune rises and falls with the harvest." Ledford liked that "[it] gives kids a good glimpse at what farmers encounter in daily life, such as bad harvests, equipment failure, bank loans, keeping track of money earned — and monies owed."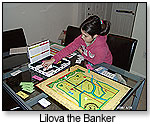 Radina (11) liked working on mathematical calculations. "This is a real, live example, with all the risks and benefits of running a small business," Lilova commented. Ledford said, "Joe (8) enjoyed learning about farming different crops and livestock from an economic standpoint."

How to Improve It: Several participants suggested shorter instructions and less complicated rules. "We were constantly referring to the instructions," pointed out Christensen.

Ledford thought it would be helpful to have a separate "glossary of terminology" explaining the vocabulary, perhaps one for each player to have on hand to refer to during the game. Lilova suggested including plastic pieces labeled "double" to place upon those crops that are doubled in harvest. Jenkins would like to see some information on the process of farming.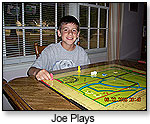 Kent (13), Joshua (10), and Joe (8) didn't care for the farmer pictured on the box. Kent said he was "just plain creepy." Joe suggested replacing the cartoon figure with a photo of a real farmer. Wilson thought a high-school-age target range would be most appropriate since "the older you are, the more fun it is, and you 'have to play a few times before you get the hang of it.'"

Would You Want Another Toy Like This? "My daughter loves it," raved Lilova. Wilson commented, "My husband … really liked this game and thinks all families should own one."

Roundtable participants are Sue Christensen with Mac (14), Kent (13), Joshua (10) and Ben (6); office assistant Charlene Jenkins with Taylor (17), Terence (13), Tabitha (11), Timothy (9), Tori (7) and Titus (5); Susan Ledford, editor of the "Homeschool Resources Directory for SC," with Victoria (13), Joe (8) and Griffin (2); research scientist Kostadinka Lilova with Radina (11); machine operator Geena Thomas with Tom (13), Liz (12), and Rose (7); and Teresa Wilson, editor of "HOMES Newsletter," with Timothy (15), Andrew (12), Elise (9) and Steven (8).


Writer's Bio:
Susan Ledford is the writer, editor and publisher of the "Homeschool Resources Directory for S.C." She has been evaluating toys and games for
TDmonthly
's Roundtable reviews since 2005. She also is a homeschool veteran of seven years.
Read more articles by this author
THIS BANNER IS AN AD:
---
---