TDmonthly Magazine Product Reviews for OUT OF THE BOX PUBLISHING
---
--AD--
Below are some of the products from OUT OF THE BOX PUBLISHING TDmonthly has reviewed.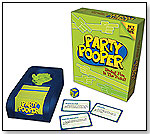 Name: Party Pooper
Company: OUT OF THE BOX PUBLISHING
Age: 12 and up
Price: Not Specified
Category: General Games

Please click here to read TDmonthly´s Toy Expert review of this product.

Learn more about Party Pooper
---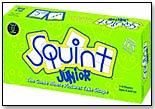 Name: Squint Junior
Company: OUT OF THE BOX PUBLISHING
Age: 8 and up
Price: $16.99
Category: General Games

What Is It?
In this family-oriented game, players use transparent shape cards to build simple pictures and then other players guess what the picture might be. Kids can learn how to create images from shapes and improve their perception skills. Adults just like the challenge. This game received Learning Magazine´s 2007 Teachers´ Choice Award for the Family.

What We Thought
The family who tested it for ToyDirectory has a 6-year-old who is just starting to learn to read, and now she wants to play Squint Junior every day! The unexpected bonus of the game is that the game is actually improving the little girl's reading skills. Her parents also appreciate that it's an easy game to clean up.

Why They'll Want It
"Squint was very easy to learn and very entertaining for almost all ages — kids to very old people," Dad assured TDmonthly Magazine. "It´s a great game." — Alison Marek, 8/6/07

Learn more about Squint Junior
---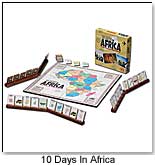 Name: 10 Days In Africa
Company: OUT OF THE BOX PUBLISHING
Age: 10 and up
Price: $19.99
Category: General Games



What Is It?


10 Days in Africa by Out of the Box Games is a strategy game where players plot their journey across the continent of Africa. Each player gets two trays of card-holders with spaces numbered for days 1-10. Then cards are shuffled and laid next to the board. Players draw cards and eliminate or replace them in the holders. Transportation cards and country cards facilitate connections from one country to another and the player able to successfully travel all 10 days throughout Africa wins! 10 Days in Africa is also the 2004 winner of the "Best Smart Play" award from Dr. Toy.



What We Thought


This game is intriguing to anyone who enjoys traveling and planning adventures. A definite amount of strategy and planning goes into placing each card, and plotting one´s trip. Geographical facts, like population and square footage are detailed on each card, for those who enjoy a bit of trivia.



Why They'll Want It


With a full colored map of Africa, this game is an absolute geography lesson. It challenges even the most experienced traveler. Navigation is the key to the game and anyone who has ever found themselves inspired by Indian Jones will want to investigate this geographical game of distant lands.

---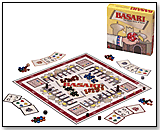 Name: Basari
Company: OUT OF THE BOX PUBLISHING
Age: 10 and up
Price: $19.99
Category: General Games



What is It?
The bustling bazaar is reimagined as a board game in Out of the Box's Basari. As players haggle and barter with one another to earn gemstones, they accumulate points. After three rounds, the player with the most points gains victory.




What We Thought
Basari will turn your youngster into a seasoned wheeler-and-dealer faster than you can say, "Sold!" The game requires shrewd strategy skills and, most of all, a quick wit to weigh the best deal. Aimed at 3-4 players, the game is best played with a full cast so every player has ample opportunity to negotiate with a wide range of offers.




Why They'll Want It
Constant banter and negotiating makes sure every player is in on the fun. And, at only 30 to 45 minutes, Basari is a game you won't have to wait hours to finish.




--Jeremy Loudenback
---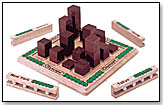 Name: Cityscape
Company: OUT OF THE BOX PUBLISHING
Age: 8 and up
Price: $29.99
Category: General Games

Four players match wits as they build their dream-city skyline. Each player tries to create their vision in the 16-block city area by trying to determine how many buildings are visible from a certain vantage point and how to make landmarks like the tallest building and multiple buildings of the same height.

Cityscape is a game that represents the best in multi-player competition. This is truly a game for players 8 and up because it challenges the mind of young and old. There is no wonder this game is raking in the accolades across the industry.

This wooden game with fantastic European craftsmanship will be played often and is handsome enough to stay out on display even when not in use. Retailers will find Citscape easy to move out the door anytime of year, especially the during the holiday season.
---

Name: Fire & Ice
Company: OUT OF THE BOX PUBLISHING
Age: 8 and up
Price: $29.99
Category: General Games

Controlling one island will win you a battle, but in Fire & Ice, players must control the board to win the war. Two players are forced to use 3-D reasoning in a 2-D world by positioning their pins in certain patterns to control as many islands as possible. The catch is that every move you make creates a new move for the competition.

This game is addictive from the very start. It is as if Tic-Tac-Toe went 3-D. The logic is like chess but the execution is in a world of its own. This is a must have game for any age! Fire & Ice is never tiresome, and the game is mathematically proven to have a winner every game.

Once you play this game you're hooked. Retailers should make this game available as a sample to play on the sales floor. There are those that will be addicted to playing it and will give the game as a gift if only to have more competition while traveling to see friends and family.
---

---