---
TDmonthly's Psychologist Mom
She'll Put Your Toys on the Couch
Dr. Wright put on her sports mind for this round of reviews, delving into soccer, football and racing. Read on to see how the products scored: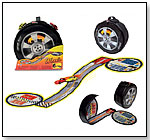 ZipBin® Softie™ Wheelie™ by NEAT-OH! INTERNATIONAL LLC
Age: 3 and Up
Gender: Boys and Girls
Category: Play Sets
MSRP: $19.99



TD

monthly rating:




The Dr.'s Impressions: ZipBin Softie™ Wheelie™ is a round carrier for toy cars. When zipped up, it looks just like a mag wheel. When opened, the case reveals a play surface that includes a race track, a parking garage and a shop area. Two high-quality, die-cast cars come with it. One has little doors that open, and there's plenty of room for storing other small cars in special holders inside the case.

Kids' Perspective: The 4-year-old boy I showed this to jumped up and down with excitement and immediately wanted to play with it. His mom took it with her to a waiting room, where it kept him occupied for an hour. A 6-year-old girl also enjoyed it a lot. The 12-year-old boy I showed it to expected something more, such as ramps, but the younger kids didn't care.

Recommendation: This toy has a high "wow" factor, particularly for preschoolers and younger school-age children. The handle makes it nice and highly portable, and it's lightweight. The surface wipes clean. It's an ideal toy for a mother to have in her arsenal of toys for trips and errands.

---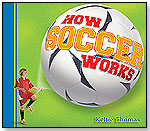 How Soccer Works by MAPLE TREE PRESS
Age: 8 to 12
Gender: Boys and Girls
Category: Books
MSRP: $10.95



TD

monthly rating:




The Dr.'s Impressions: Written by Keltie Thomas and illustrated by Stephen MacEarchen, this book offers soccer-loving kids some depth of information about the intricacies of the game. It is small and accessible with brightly colored illustrations and photos, but offers a wealth of knowledge about finer points of the world's most popular sport.

Kids' Perspective: The engaging style, sharp design and detailed information made this book appealing to a sports-loving 12-year-old who isn't particularly a fan of soccer. It makes a nice flip-through, and a 9-year-old girl, who does enjoy playing soccer, also liked it.

Recommendation: This book could get reluctant tween readers who like soccer a bit more involved in reading. The sophisticated amount and quality of information offer a high reward and a nice visual package.

---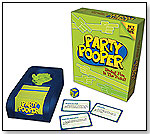 Party Pooper by OUT OF THE BOX PUBLISHING
Age: 12 and Up
Gender: Boys and Girls
Category: General Games



TD

monthly rating:




The Dr.'s Impressions: This 20- to 30-minute game offers 432 different oddball scenarios (for example: You're dining with the president of Finland and roasted reindeer and fish pie are on the menu). Players predict which person in the group is most likely (Party Animal) and least likely (Party Pooper) to go along with a given scenario.

Kids' Perspective: I first tried this game with a group of kids right at and a little below the age recommendation, and that turned out to be a mistake. They didn't appreciate the slightly more adult situations. Teens (13, 13, 14 and 15) liked the game much better, particularly when they thought I was no longer watching.

Recommendation: This game is great for a crowd of teens or young adults. It's better for people who know each other, rather than as a getting-to-know-you game. It's a good one to add to the party-game shelf.

---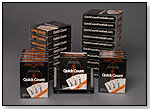 Quick Count Football by SPELMAN MEDIA INC.
Age: 7 and Up
Gender: Boys and Girls
Category: Card Games
MSRP: $7.99



TD

monthly rating:




The Dr.'s Impressions: Quick Count is a football card game played by two to four people. Each 54-card deck of Quick Count features three main cards: Run, Pass and Catch. Players attempt to advance down the "field" by using Run cards or a matching combination of Pass and Catch cards. To get a touchdown, players must use the cards to advance exactly 100 yards. There's a lot of simple math practiced in this game.

Kids' Perspective: The kids who played with me (a 12-year-old boy, 9-year-old girl and 6-year-old girl) didn't start off knowing much about football, but learned a lot about the basics quickly. They didn't beg to play again, but the game held up over multiple games over the testing period of a few weeks.

Recommendation: This is a great portable game that is helpful for passing the time while waiting at a doctor's office or restaurant. It's very fast-paced and more nuanced than it initially appears. A wide range of ages enjoyed this game.

Writer's Bio:
Dr. Tiffany Wright doesn't just look at toys; she analyzes them. In and out of the box, she scrutinizes them for playability, appropriateness and educational value. The latter quality is especially important to this stay-at-home psychologist/mother, who also homeschools her three youngest children. Her daughter attends UCLA. Dr. Wright earned her Ph.D. in personality psychology from University of California, Riverside. She is always on the lookout for toys and games that inspire creativity and impart knowledge while bringing fun and laughter to her home.
Read more articles by this author
THIS BANNER IS AN AD:
---
---