Mad Dog Motors Derby Set
by
KID GALAXY INC.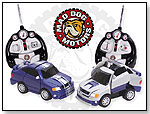 Now kids can get real bang-up demolition derby action anytime, anywhere. They just power up the Mad Dogs cars and crash 'em together or smash 'em into objects, and instantly the car will crack up. When the car crashes head on, the roof, hood and a door will be dislodged. If it smashes and hits the rear bumper, the trunk and a door pop open. Kids can drive them "busted up" or push on the ejected parts to restore. This product is a 2007 Creative Child Seal of Excellence Award winner.
— "Remote control cars by Kid Galaxy: we sell them all the time. There are lots of different kinds for all age groups. Boys love them because they work well and they're fun," said Katie Culotta, owner of Victoria's Toy Station in Baton Rouge, La., about last-minute gifts for boys.
— When asked about trends in her store, Jill Jernigan, owner of J. Christopher Toys in Jonesboro, Ark., replied, "Remote control toys. We do a whole lot of Kid Galaxy....Kids like it because they're clever and unique remote control cars."
— Four of 48 retailers who spoke to
TDmonthly
named Kid Galaxy remote-control cars as among the favorites in their stores. 11/1/2006 (Price: $30.00)