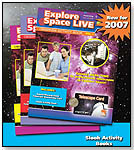 Slooh Explore Space Live Activity Books – Volume 1
MSRP:
$14.95
Age:
6 and up
Category:
Science & Nature

Watch Video Now
ToyDirectory Product ID#: 11006
These activity books provide a great way for families to learn about celestial objects, and then see them in real-time, where they can take pictures, print them out, and paste them in their books. They can also fill in information such as distance from the earth and sky conditions at the time of viewing. Each book contains 14 missions and has a telescope card sealed on the front cover.
— Slooh Explore Space Live is the "only product in the marketplace that teaches kids/adults about our universe and then provides the mechanism to go see these celestial objects live by accessing high-powered telescopes through a home computer," commented Patrick Paolucci of Bluestorm. Launch date: February 2007. 1/8/2007
[Add to my Inquiry Basket][?]