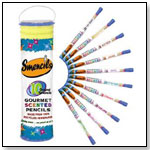 Smencils Gourmet Scented Pencils (Set of 10)
MSRP:
$14.95
Category:
Gifts

Watch Video Now
ToyDirectory Product ID#: 26570
Set of 10 Gourmet Scented Pencils in reusable zippered pouch. Smencils are made from 100% recycled newspaper soaked in natural gourmet liquid fragrance. Scents include: Bubble Gum, Orange, Cinnamon, Grape, Root Beer, Watermelon, Black Cherry, Very Berry, Tropical Blast, and Cotton Candy. Each individual Smencil is packaged in its own freshness tube made from biodegradable, corn-based plastic. Smencils will retain their scent for up to 2 years and each time you sharpen your Smencil the scent is refreshed.
— "We sell about 50 per month. We're expecting this to be a big stocking stuffer,'' Christine Osborne, co-owner of
Wonder Works
in Charleston, S.C., told
TDmonthly
.
— William Meredith, owner of
Learning Express
in Cary, N.C., told
TDmonthly
in a Fall 2012 survey that they sell 100 Smencils a month, making them one of the store's best selling tween products. 1/5/2010
[Add to my Inquiry Basket][?]