Products from CRAYOLA LLC
THIS BANNER IS AN AD:
---


View: By latest product added | By earliest product added



Below are some of the products CRAYOLA LLC has shared with ToyDirectory and TDmonthly



---
MSRP: $4.99
Age Range: 5 and up
Launch Date: January 2010
Gender: Boys And Girls
Each bright crayon in this eight-pack can be used on a dry-erase surface and is said to erase cleanly and not dry out. The pack, which comes with an eraser mitt and crayon sharpener, includes red, orange, yellow, green, blue, purple, brown and black shades. Launch date: 2010.
ToyDirectory Product ID#: 27025
(added 2/11/2010)
This product is designed to teach children about music as well as art. As a child colors, music is played that matches the strokes of the crayon in speed. There's salsa, swing, country or rock tunes, plus toddlers can add layers of trumpet, guitar, piano and drums over the music.
ToyDirectory Product ID#: 25808
(added 10/29/2009)
The Crayon Maker transforms used or broken off pieces of crayons and turns them into new ones. The user just mixes in bits of crayon, melts them and then pours into a mold to harden. It requires a clear, 60-watt candelabra light bulb (not included).
ToyDirectory Product ID#: 25798
(added 10/28/2009)
MSRP: $3.99
Age Range: 5 to 7
SKU or Item #: 52-4016
Launch Date: March 2008
Crayola 16 Ct. Triangular crayons combine anti-roll design and a writing grip that is developmentally appropriate for students ages 5 to 7. Launch date: 03/03/2008
ToyDirectory Product ID#: 20218
(added 8/25/2008)
MSRP: $14.99
Age Range: 4 to 10
SKU or Item #: 98-8630-0-000
Launch Date: January 2008
The Crayola Dry-Erase Activity Center is a unique, dry-erase board designed for individual use by students. Students can slide blank or pre-printed template cards underneath the window and practice printing, cursive, math, dot-to-dots, etc., by tracing or following the guides with a Crayola Dry-Erase fine line marker. With one quick wipe, the board is clean to practice on again. "This is the only dry-erase board desingned for individual use by students at their desks that allows them to practice fine motor skills - such as handwritting development - with the ablility to easily erase mistakes and practice again without creating any waste," said Susan Tucker, PR specialist for Crayola. Launch date: 2008
ToyDirectory Product ID#: 20214
(added 8/25/2008)
The Silly Putty Original Egg is a tribute to the original 1950s classic novelty toy. It comes in its original red shell and displays the same unique properties that have mesmerized kids and adults for generations. Hit it and it holds firm. Touch it and it seems to melt. Hours of play and you still won't figure it out.
— Silly Putty is esteemed by customers as a convenient, affordable and always-fun toy for both children and adults. The majority of customers who reviewed this product on Amazon.com and Epinions.com rated it with 5 stars. One downfall is that it collects dust and hair and may harden if not kept in its plastic egg container. (09.09.08)
ToyDirectory Product ID#: 10276
(added 11/28/2006)
Crayola Color Wonder Sprayer
TDmonthly rating:

(
Read Review
)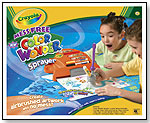 MSRP: $24.99
Age Range: 5 to 12
SKU or Item #: 75-2500
Launch Date: July 2006
Gender: Boys And Girls
The Color Wonder Sprayer makes airbrushing easy and mess free. Clear Color Wonder Spray magically appears in color on Color Wonder surfaces or paper - not on skin, walls, carpet, or clothing. Children can use the unique sprayer stencils to easily create images, or airbrush their own designs for personalized scenes. The unit comes with four spray cartridges, two markers, a 12-page tablet, three stencil sheets, one pop-up figure, and one white crayon for writing and revealing secret messages. The product requires 4 C batteries. It was named one of the 100 Best Children's Products of 2006 by Dr. Toy. Launch date: July 2006.
ToyDirectory Product ID#: 10020
(added 11/10/2006)
Specially developed for early learning, Crayola Dough gives little fingers a soft texture and the brightest, most vibrant colors available. The airtight container keeps dough crumble-free and ready for play at any time. It is available in assorted colors.
ToyDirectory Product ID#: 8512
(added 7/10/2006)
Art is an education in itself, and every child has an interest in drawing and coloring. What makes these art tools unique is that they come in an assortment of skin hues that give a child a realistic palette for coloring his or her world.
? These crayons open the door to discussions of cultural traits and insights, as well as set the grounds for historical and societal discussions.
? ?At first I was reluctant to endorse these,? explained Mary Waterson of Portland, Ore. ?I thought they were too PC. But then my daughter, Leslie, started playing with them in the car and matching the color of the crayon to the color of a person she saw. This began an hour-long discussion about the history of mankind and the origin of races. I was impressed.?
? They are thick for an easy grip ? perfect for little hands ? and come in black, sepia, peach, apricot, white, tan, mahogany and burnt sienna.
ToyDirectory Product ID#: 4396
(added 8/31/2005)
MSRP: $19.99
Age Range: 6 to 9
Gender: Girls
Girlfitti Smart Charms interactive bracelets let girls make their own "flash-ion" statement and connect with their friends. These bracelets include eight interchangeable "smart charms," with electronic chips inside, that light up. Girls get one bracelet to wear and one to share with their best friend. When Girlfitti girls connect in the hall or in class, the IR technology inside makes the red, yellow and blue lights on both bracelets instantly light up. The Girlfitti Smart Charms interactive bracelets come in sets of two with eight smart charms, two tubes of luminescent decorating paint and two dangle charms to share between friends.
ToyDirectory Product ID#: 3579
(added 5/18/2005)