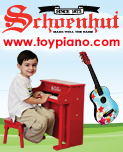 Article Tools:








Hot Toys for Christmas
Your Holiday Shopping Stops Here
Please click here for

TD

monthly's Holiday Gift Guide.

The Holiday Season is upon us. If you've shopped 'til you dropped at your local specialty toy stores and still haven't found the perfect gift for the perfect people on your list, you've come to the right place.



TD

monthly's Holiday Gift Guide has amazing gift ideas, and you can buy many of them with just a few clicks of the mouse. You'll be able to sit your toddler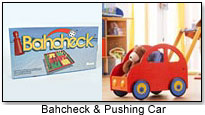 down at a Pansy table-and-chair set from Teacup Tables LLC (Gift Guide), let your dad fly high with a radio-controlled helicopter from Hobby Zone (Gift Guide), and find out if your friends survive melting icebergs by playing Antarctica Global WARming from Savita Games
(Gift Guide)
.

So whether it's Bahcheck, a fast-playing new version of backgammon from the Bahamas by B.I.P. Limited
(Gift Guide)
, a Pushing Car from Haba
(Gift Guide)
or puppet books by Lisa LeLeu
(Gift Guide)
, you'll be sure to find something unique and unexpected by clicking here.
Catalog Request Form

Writer's Bio:
ALISON MAREK is a writer/artist/filmmaker whose work has been published by Fairchild Publications and DC Comics (Piranha Press), among others. Her short films have won awards in festivals around the world and have been broadcast on Showtime and other cable networks. Her new web series, "Mugg's Movers," was sponsored by FlatRate Moving Systems LLC and was selected for an NYU webseries showcase at
writerslabwest.org/webshowcase
. Alison is also the writer of the 2011 Emmy-nominated PSA "Tell Someone," for the Legal Aid Foundation of Los Angeles.
Read more articles by this author


Advertisement: