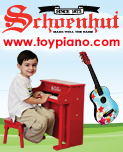 Article Tools:








My Best Sellers: Izilla Toys
Discs, Dolls and Collectibles Give Sales a Blast
When Co-owners Jude Larene and Jennifer Schneeweis opened their Seattle toy store in 2003, they decided to bring in toys that were appealing to them and good for children.

The pair often researches products online, asks their community for input about their store and even taps into the preferences of their 7-year-old son, Isaiah, who Jude said is "a huge help at the shop and with ordering."

Here's what they said sells the best. To learn more about the store, read Retailer Spotlight: Izilla Toys.
.
.
.
.
.
.
.
.
.
.
Catalog Request Form


Advertisement: