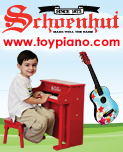 Article Tools:








Dolls Won't Let Up
Not Hot, Not Cool, Classic Girl Toys Carry On
"Doll sales have been trending down slightly because of the effect of Webkinz — same consumer." — Deran Muckjian, Catch a Falling Star

With additional reporting by regional correspondents Virginia Davis, Dennis Furlan, Terri Hughes-Lazzell, Christine Lebednik and Brenda Ruggiero

Though few of the 62 retailers surveyed by

TD

monthly Magazine claimed dolls as a stellar seller, all but one carried them — a testament to this classic toy's staying power.

WHAT'S NEW

KatJan's rag dolls based on those toted by Kathy and Janet of The Lennon Sisters during their 1950s tours may appeal to traditional gift givers.

"I think they will do well," speculated Kim Hobbs, owner of Hobbs House of Dolls in Marietta, Ga.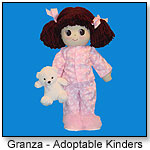 "I'm looking for something like American Girls" for older girls, David Campbell, owner of Amazing Toys in Great Falls, Mont., told

TD

monthly Magazine.

Dolls that fit into that category include the new 21" multicultural Karito Kids from KidsGive, 18" Christian-themed dolls from One2Believe and 18" dolls from Carpatina.

Retailers looking for alternatives to Barbie and Bratz might consider multicultural and biracial fashion dolls, such as Mixis by YNU Group, Makeda by EthiDolls and Princess Zara.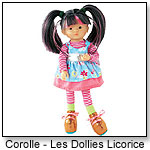 WHAT'S SELLING

Although Groovy Girls by Manhattan Toy are up in some stores and down in others, they're still at the top of

TD

monthly's Top-10 Most-Wanted Dolls list.

Classic baby dolls have regained some popularity, but customers are not always finding the cute, cuddly ones they want.

"I find it very difficult to get dolls for baby girls where the doll does not look angry," commented Marilyn Sipila, owner of Toys Etc. in Poulsbo, Wash. "I have a lot of mothers and grandmothers coming in and saying that as well."

Cute possibilities include the wildly popular Corolle babies, new plush dolls from Mary Meyer, play babies by Lee Middleton and updated rag dolls from Adorable Originals and Granza Inc.


Four of 61 retailers have success with multicultural baby dolls — particularly Asian dolls that reflect adoptions taking place in their neighborhoods. But it all depends on demographics.

"We're not in a multicultural area, so we're not getting that impact like other places would," shared Mary Duncan, manager of Tinkerz Toy Shop in Coeur D'Alene, Idaho.

WHAT'S FADING

Dolls in general are down, agreed eight of 61 retailers.

"A lot of our buyers are older collectors and they only have so much room," explained Debbie Hough, buyer for 41-year-old Hartville Collectibles in Hartville, Ohio.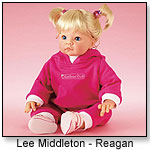 "Doll sales have been trending down slightly because of the effect of Webkinz — same consumer," added Deran Muckjian, owner of Catch a Falling Star in Winchester, Mass.

The one exception seems to be baby dolls, as mentioned above.

WHAT TO MAKE OF IT

Dolls are a staple, although rarely a hot seller. Pay attention to your demographic, look for cute cuddly dolls that are appropriate for little girls, and get ready for Grandma — she's most likely to bring a doll to the cash register.

For the latest fashion dolls, read Fashion Passion. For more on baby dolls, see Hot Babes.
Unlike most dolls, these dolls have embroidered eyes and are constructed of soft fabrics that make them huggable. The first four dolls in the Little Petals line are Lily, Blossom, Daisy and Rose. Corduroy trims, ribbon trims, functional pockets and detailed embroidery are a few of the special details featured on these 10" soft dolls. Launch date: May 2007.
.
These multicultural dolls wear "Best Pals" bracelets and clothes that are removable for added play value. Each doll is limited edition and numbered on its sewn-in label. Sofia features black hair, dark brown skin and black eyes, and is all dressed up in her red polka-dot party dress. Lily has black hair, pale skin and black eyes, and comes dressed in a mint green vintage-patterned dress. Isabelle has dark brown hair, brown skin and dark brown eyes, and is ready for her first day of school in a plaid dress. Launch date: September 2007.
.
This "Best Pals" doll is dressed up in her holiday attire to match the "Best Pals Christmas" CD cover. The dress is an elegant velveteen traditional color with a drop waist and a bow in the back. This doll also carries a silk drawstring tote with a little white flannel nightie inside.
.
.
.
.
Small World Toys has the perfect new item to help little ones find their navel, just in case it's gone astray. Karen Katz' adorable book "Where Is Baby's Belly Button," along with a cuddly plush toy that comes to life from the story, will help baby solve this caper in no time. The plush doll measures 12", and the company requires a minimum order of four units. Launch date: June 2007.
.
.
.
Introduce a little girl to her very own baby she can care for, play with and dress. Baby Millie laughs, cries, sucks her bottle and sleeps, just like a real baby. She comes dressed in a soft velour sleeper and hat. The set also includes a bottle, pacifier, pillow and comforter.
.
.
.
.
.
Mixis™ collectible play dolls have been delicately designed with varying skin tones, realistically painted eyes, unique facial characteristics, fully articulated body parts and a naturally proportioned body. The focus is on the blending and fusion of races, ethnicities and cultures, encouraging a dialogue between children and their families that explores the richness and diversity of their individual backgrounds.
.
.
.
.
.
Each high-quality, washable Adoptable Kinders rag doll is designed by famed artisan Aranza Zamora. The 26-doll collection is themed as an active group of kindergarten friends with different personalities, and the name of each character begins with a different letter of the alphabet. Each doll comes with an Internet key-code that allows children to register online at the "Adoptable Kinders School," where they can play educational games. A child graduates to the next grade when all the games for one grade level are completed. The dolls are about 18" tall.
.
The beloved heroine of Johanna Spyri's classic story, Heidi comes alive with her black curls and pale eyes. The 9" wooden-bodied doll wears a traditional dirndl of woven cotton topped with a leather vest. In her book box are a basket of soft, white rolls for Peter's grandmother and the warm red shawl she couldn't bear to give away. A beautiful sunset-colored silk dress made over for her from one of Clara's is included. Also tucked in the box is the book that made her so homesick when it reminded her of Grandfather's home high up in the Alps. She's available in a limited edition of just 75 dolls.
.
.
Tonner Doll Company Inc. has created limited edition Emma & Mimzy™ dolls based on characters from New Line Cinema's science fiction feature film, "The Last Mimzy." At IDEX 2007, Emma and Mimzy received a nomination for an Industry's Choice "Diamond" Dolls Award for Excellence. The partnership between Tonner Doll Company Inc. and New Line Cinema also includes an individual Mimzy collectible. Emma, sculpted by renowned artist Ann Timmerman, is 18" tall, fully strung and crafted in high-quality vinyl with rooted saran hair and sweet, inset eyes full of expression. A miniature 9" Mimzy rabbit is included with Emma, and together they retail for $124.99. A separate, life-size Mimzy doll measures 14" ear to toe and retails at $59.99.
.
Catalog Request Form


Advertisement: