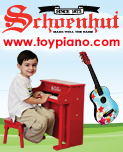 Article Tools:








This One Goes to the Dogs
Plush Fight for Precedence in Overstuffed Stores
"Dogs have become really popular … overtaken any other animal." — Jackie Keyes, Over the Moon

With additional reporting by regional correspondents Virginia Davis, Dennis Furlan, Terri Hughes-Lazzell, Christine Lebednik and Brenda Ruggiero

Sixty-two specialty retailers recently gave

TD

monthly Magazine the scoop on plush and puppets in their stores, where domesticated animals rule and where (sometimes) a plush sell is a hard sell. And although

TD

monthly's list of the Top-10 Most-Wanted Plush Toys tells a story of mice and men, new contenders are emerging amid the many cuddly product lines we already know and love.

WHAT'S NEW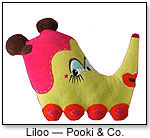 Just launched at the ASTRA Marketplace tradeshow in June, Heidi's Home Design struts a Zoocchini line of soft safari animals that sit on-shelf in transparent, decorative "plushbuckets."

Other new stuffed toys are sporting European flair.

"[Pookies] launched in Europe before chocolate brown was cool," U.S. Sales Director Gail Collins of Pooki & Co. said of the whimsical characters and one of the "grounded" colors that balances their bright palette.

Princess Soft Toys extends its infant offerings with the European-inspired Nouveau Nursery line, which features embroidery and pairs brown with baby pink and blue — also a color scheme seen with soon-to-launch teddy bears from First & Main.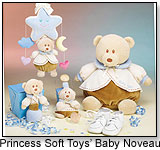 There are also new plush friends — Jellybeanies from Tomorrow Inc. — that not only have a virtual component but also a long-lasting scent-release feature.

"The definition of what a kid is asking for as a gift is so much broader [now]," Chief Marketing Officer Jim Huntley of Tomorrow Inc. told TDmonthly.

WHAT'S SELLING

Four specialty retailers said penguins are still heating up the ice, two store owners in the northwestern United States noted that they sell a lot of horses, and six retailers indicated that good ol' man's best friend just can't be beat.

"Dogs have become really popular … overtaken any other animal," noticed Jackie Keyes, buyer for Over the Moon in Hingham, Mass.

Along with more puppet sales, "we've been selling more of the domesticated animals like cats and dogs," seconded Char Mcauley, manager of Toy Town in Casper, Wyo.

Some retailers, such as Mary Sisson of Kazoodles in Vancouver, Wash., are doing quite well with stuffed toys in general. Her store sold 894 plush and 609 puppets in a nine-month period, she reported.

WHAT'S FADING

But others are struggling. Despite new introductions and the sense that "boys are getting into plush more," according to Joyce Matthews, owner of Just 4 Funn in St. Simons Island, Ga., a few retailers believe the plush category is taking a hit.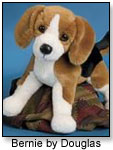 "My plush toys are in the back of the store because I'm not selling them very well," Owner Scott Loveless of Toys That Teach in Bothell, Wash., told

TD

monthly. "People will … say, 'Oh, how cute, but I already have too many of these.'"

Tom England, owner of Dancing Bear Toys and Gifts in Frederick, Md., agreed: "This line has dropped dramatically over the past four years. … Customers indicate that their children have so many plush/puppets that they refuse to buy more," he said.

Danny Givens, owner of Little Dickens in Lynchburg, Va., pointed out that snakes and even monkeys are showing some slowdown.

WHAT TO MAKE OF IT

Since some stores are seeing slowdowns, be choosy about how many stuffed toys — and which ones — you carry. And aside from keeping stock full of puppies, scope out some new properties that may pique buyers' interest, even if their home already looks like a zoo.

View some of the new and popular plush below:
.
.
.
.
.
.
.
.
.
.
The Shining Stars Christmas collection includes this adorable penguin, a reindeer and a snowman. When kids purchase a Shining Stars friend, they can log onto the Shining Stars website and use the secret code inside the plush's hangtag to register and name a star with the International Star Registry. Children can print a star certificate that gives the exact location of the star, and the site also offers fun games and activities. Launch date: October 15, 2007.
.
This adorable bear stands 14" tall and is filled with soft polyester. The bear wears a striped T-shirt that is available in two varieties: red and black or blue and black. Wholesale purchases are available for as low as $1.60 per bear in a case of 30. Launch date: June 1, 2007.
.
These characters are two of eight 8" plush in a line created by artist and humorist Cheryl Caldwell. The characters serve as a personal guide on how to Live Out Loud™, and are great to play with or set on a computer or desk. They feature witty phrases and graphics that make light of everyday life, girl talk, romance and office chat. Launch date: mid-2007.
.
Children can ride on this plush horse, holding the handles and trampling the footplates. It can move forward and slightly turn left or right. Different sizes and designs are available.
.
The 8"-tall Roly Poly has a chime inside. Two skin tones are available, and the product is machine washable and dryable.
.
This adorable teddy bear is accented with polka-dot ribbons. It is available in pink and blue for baby girls and baby boys, respectively. Launch date: September 1, 2007.
.
.
The Hopscotch Gang is a new collection of eight 10"-tall whimsical characters with soft, low-pile fabric and fresh, distinctive, sculpted features. The collection includes a frog, elephant, moose, hound, giraffe, turtle, horse and penguin. Launch date: May 2007.
.
These musical and animated gray chenille bears wear vests that "bear" sentiments of old age. Their heads sway and their mouths move while they sing "When I'm 64." The MSRP is between $19.99 and $24.99. Launch date: March 2004.
.
With the brand-new iBedoo line, sigikid has taken the traditional music box to the next level: Just put your iPod into the little pouch on the back of the iBedoo, and play your favorite lullabies, downloaded from sigikid's iBedoo website. The iBedoo music box is part of an entire collection of snugglies, squeakers and grasp toys, in fun colors and unique designs.
.
.
This plush animal is handcrafted in Germany with special emphasis on naturalistic appearance and excellent quality. It fulfills the demands of collectors and enthusiasts who ask for plush toys to be produced with selected natural materials. It is optimally designed to give children an understanding of shy animals that are difficult to observe in the wild as they conceal themselves from humans. When these animals are in soft toy form, children can come to like them while including them in their play. The rat is made of mohair wool. It won a 2006 Preferred Choice Award from Creative Child Magazine. Launch date: 2006.
.
Catalog Request Form


Advertisement: