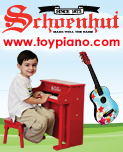 Article Tools:








Education in a Flash
Art Supplies and Learning Aids Board the School Bus
"We try to work with the school and have things that will help with what they're doing." — Susan Castor, Pentwater Toybox

With additional reporting by regional correspondents Virginia Davis, Dennis Furlan, Erik Jay, Terri Hughes-Lazzell, Christine Lebednik and Brenda Ruggiero

Sixty-six percent of the 48 specialty retailers recently surveyed by

TD

monthly Magazine said they don't carry traditional school supplies, though many stock complementary items, such as art supplies, backpacks and lunch bags (see

TD

monthly's Top-10 Most-Wanted School Supplies).

Angel Stahl of Angel's Toy Barn in Greensburg, Pa., understands her competition well, "with five Wal-Marts in a 25-mile radius, two Targets, Office Max, Staples within five miles and a specialty teacher supplier across the street."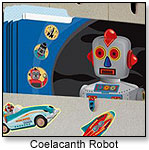 WHAT'S NEW

Nonetheless, companies such as Rich Frog Industries support the specialty market with brightly colored and historical rulers, and Hygloss Products gives studious eager beavers a chance to create their own colorful flash cards with new Triangle Cards for math study.

Barker Creek has come out with FUNctional File Folders in 18 different designs, as well a Building FUNdamentals Classroom Set for the teacher resource store.

For those who like to spruce up their environment, KeyCals reusable stickers give computer keyboards a bit of self expression, and may also be used to help beginner typists.

Robots are gearing up for a takeover, it seems, with availability including Hog Wild's Robot Calculator and Coelacanth's themed magnets, file folders and more.

WHAT'S SELLING


Even if kids can't take all their supplies to school, fun educational accessories include a Pecoware lap desk with art supplies and stickers that can be used in the car, said Sue Cooke, owner of Mother Goose in Litchfield, Conn.

Manager Lynn Walsh of Classic Games Shoppes in Westborough, Mass., is a fan of the walking Kikkerland Robot Pencil Sharpener, which "sells very well." And Cheryl Richmond, owner of Punkin Doodles in Havre, Mont., told

TD

monthly she sells three or four bulletin board sets and stickers from Creative Teaching Press per month.

Izilla Toys in Seattle gives kids a hand with school projects by offering art supplies such as clay, said Owner Jude Larene.

Added Susan Castor of Pentwater Toy Box in Pentwater, Mich., "We try to work with the school and have things that will help with what they're doing."

LEARNING IN A FLASH


"We have a lot of kids coming in asking for flash cards," noted Frances Finfrock, owner of Aunt Franny's Toys in Richland, Wash. Those children may want to try out MathShark, according to Kate Tanner, owner of Kidstop Toys & Books in Scottsdale, Ariz., who claims the electronic aid by Educational Insights obviates the need for flash cards.

Terri Bracken, owner of Earth Explorers Toys in Zionsville, Ind., carries both regular and electronic flash cards.

Teachers seeking items for the classroom occasionally check out Learning Tree Toys in Oklahoma City, Okla., said the lead clerk, Alex. The Golden Apple in Pleasanton, Calif., caters to the educator demographic by selling flashcards with rounded corners and double-card sets with duplicate multiplication tables for more than one student to use, owner John MacDougall told

TD

monthly.

WHAT TO MAKE OF IT

Think about what your customers might want but can't find elsewhere: A furry book bag? Designer pencils for homework? Fun workbooks or flash cards to replace a tutor? And don't forget the teachers; think of some suggestions for what might spruce up their room and make learning fun.

Here are some ideas to get you through the school year:
.
Kikkerland has scoured the globe and worked with the best designers worldwide to develop its distinctive and whimsical take on modern life and design. It's how they've come up with this fascinating winding robot that sharpens pencils and keeps the shavings in its head. Pencils can be sharpened by either winding up the little guy or by using the key. Now, even pencil sharpening doesn't have to be dull or routine.
.
.
This calculator, from the Qee Style Collection, comes with a matching 1.5" tall Qee Bear. Designer Alan Yip has created the world's first flexible calculator that can be rolled up for easy transport and storage. The calculator measures 100mm x 135mm x 17mm and is available in transparent black or white. Launch date: Fall 2007.
.
A twist on traditional flash cards, these triangle-shaped cards make studying fun and organized. The unique three-corner shape of each card makes these cards perfect for practicing math tables. The cards are available in 12 bright colors and come in packs of 36. Launch date: January 2007.
.
Sight Words in a Flash – Word Searches offers a fun and challenging way to reinforce print awareness, enhance literacy and build spelling skills. The puzzles can reinforce the sight words students have been exposed to through our distinctive, color-coded flash card system. The books are geared to grade-level standards and encourage individual practice. Students will feel a sense of accomplishment as they work through each set of sight word searches. Answer keys provide a quick and accurate reference for checking student work. Each reproducible 32-page book measures 8½" x 11".
.
This product's classroom-tested, kid-selected flash card size invites learners to pick up, play and learn. The set includes 169 flash cards for every operation and all number families, 0-12. Each two-sided flash card has a colored border, rounded corners for durability, a pre-drilled hole for the storage ring and bold black numbers on a crisp white background. A self-checking answer to the problem is on the reverse side. The UV-coated cards measure 2½" x 4". Two sort-and-store rings are included with every set.
.
Each Gelly Roll Shades pack includes one shade in three ink types: Medium point, Metallic and Stardust. These smooth inks are perfect for taking notes in class, creating art, writing letters and more. It meets the ACMI non-toxicity standards. The shades are available in black, red, blue, green, pink and purple. Launch date: January 2007.
.
Robot & Rocket Magnets offer an attractive way to post kids' chore lists, photos and art on the refrigerator. Launch date: September 1, 2007.
.
These brightly colored wooden rulers make measuring and drawing lines fun. Made of a very solid wood, these rulers are highly durable and will not bend or break easily. Available in two different themes (Kids Rule and Teachers Rule), kids and teachers alike will love these rulers. Launch date: July 2007.
.
.
These are the same backpacks Gramcracker sewed for Freckles and Maya. The reversible packs are soft, cuddly and perfect for carrying secret treasures. They're washable but dislike a hot dryer. The opening has two top drawstrings with pom-poms designed for little hands to pull closed. The dimensions are 19" x 19", and one size truly fits all. This product is made in the USA.
.
This plastic plastic device features engraved (or raised) grooves that form a path. Since the fingertip is a superhighway to the brain, fingertip movement along the paths provides tactile brain stimulation. Brainpath uses the fingertip's touch receptors (over 3,000) to stimulate the brain in the same way Braille stimulates the brain. Available in a variety of sizes, shapes and configurations, Brainpath tools will teach kids to focus — a skill they will need when learning to read. This product is a 2007 Creative Child Magazine Seal of Excellence award winner. Launch date: October 2007.
.
.
.
The Aisha & Co. casual backpack features a 210-denier PVC coating, a web handle at the top of the bag, adjustable padded and contoured shoulder straps, a disc holder, a cell phone holder and a zippered pocket. This 12" x 16" x 6" bag also has two mesh side pockets for extra storage. It is stylish, durable and comfortable.
.
This 7.5" x 5" journal features 100 pages of cherry-colored paper that has lines on one side and a frame to draw on the other side. The front and back covers are laminated to repel spills, and a mini magenta-colored Sharpie is attached to the coil.
.
.
This collection includes six fancy letter-size file folders in three assorted colors. Launch date: September 1, 2007.
.
Clear iPod/MP3 player display pocket Carry Handle Contoured padded shoulder straps Mesh cell phone pouch Waist strap Multiple access cargo pockets Built-in laptop protective pocket with closed cell foam for extra protection
.
This classroom set includes nine reproducible activity books and nine companion chart sets that will enhance any student's reading comprehension and writing skills. Subjects covered include homonyms, synonyms and antonyms, compound words, nouns, verbs and adverbs, adjectives, collective nouns, prefixes and suffixes, idioms and similes. Bright, colorful companion charts visually supplement each topic area. Launch date: February 2007.
.
Available in 18 designs, these folders coordinate, organize and add a stylish touch to any set of papers or files. Matching library pockets, classroom trim, charts and other classroom decor items are also available. Launch date: July 2007.
.
These 4-1/4" x 9" mats unfold like a map in three easy steps. The mats are durable and spill resistant, and its signature Color On Wipe Off surface allows for endless play. Each EZ Fold comes complete with four non-toxic crayons. EZ Fold is available in nine other varieties, including Travel Fun, Under the Sea, Fun Numbers, U.S.A. and more. This product is a Dr. Toy Best Vacation Toy Award winner. Launch date: March 2006.
.
This is the portable sibling of the Original Buddha Board. Open the laptop to find the Buddha Board nestled in the lid, along with a slender water trough and bamboo paintbrush. The bottom of the case flips backward to become an easel stand.
.
The No. 2 pencils feature non-toxic pirate eraser toppers. Tub orders consist of 36 topper pencils. Launch date: February 2007.
.
This lap desk includes plenty to keep a child busy while traveling or at home. It features a magnetic doll, a 40-piece collection of magnetic outfits and accessories, a magnetic stage, three markers, drawing paper, seven crayons, a dry-erase marker and eraser, a cushioned bottom, zippered storage and pom-pom trim.
.
Educational Insights' top seller in the electronic learning device category, this handheld is a battery-operated flash card game used to quiz kids on addition, subtraction, multiplication, division, fractions, decimals and percentages. It has eight levels of difficulty. The user sees concrete results and receives instant feedback.
.
Catalog Request Form


Advertisement: