Article Tools:








See the New Toys Here!
Read About the New Toys at Toy Fair and Beyond
TD

monthly Magazine found the best new toys at Toy Fair, spotted trends and found out what specialty retailers thought about the show: Check out our special Toy Fair section to see the best of the Fair. Come back daily to watch the more than 120 demonstration videos* we shot at the show, plus excerpts from our Toy Frenzy! documentary, where we followed new companies such as Tails of Abbygail, Successful Kids, EthiKids, Frolicking Floaters, Puppetoy, Voxal and Beyond Chess.

To give you a head start on ordering, below are some of the newest board games that have come through ToyDirectory. Some you might have seen at Toy Fair ... but some you couldn't! We upload new toys every few days, so be sure to put us on your Favorites list.

*Videos will start uploading on February 27 and continue for the next several weeks, so revisit frequently!
The Sleepover Party Game by ENDLESS GAMES


Break out the sleeping bags and leave the lights on. It's a SLEEPOVER PARTY and we're staying up late! Spin the spinner and attempt to complete one of over 200 ACT IT, WORK IT, or PARTY Challenges. Be the Human Mirror and copy everything another player does! Take Part in the "Funny Sound Competition" and make the most ridiculous noise you can!! Try to lick your own elbow!!! Being silly and having fun is the name of the game at this Sleepover, so be prepared to sing, laugh, perform, and make a general fool of yourself! Don't fall asleep early, or you'll miss out on earning the most cards and staying up all night! Kids rule at the SLEEPOVER PARTY, but mom and dad can play too… if they behave! 1/20/2015 (Price: $19.99) [Add to my Inquiry Basket][?]



Pentago Jubilee 10th anniversary edition by MINDTWISTER USA


Pentago 10th anniversary commemorative Jubilee Edition is a two player, five in a row strategy game. A stylish, sleek black and white board is wrapped in an elegant smoky black cover; the marbles are a glamorous black and gold to make a powerful visual impression on all players. Pentago Jubilee is packaged in a clear clamshell packaging to show off the beauty of the game itself, the showy clear visual of the game, framed by a graphically appealing box that communicates the many awards Pentago has claimed over the decade. 12/18/2014 (Age: 6 and up) [Add to my Inquiry Basket][?]



Morphology by PLASMART INC.

Pick it, build it, animate it, guess it. Get ready to make sounds, act out words and race against the other teams to see who can guess the mystery word. A laugh-out-loud game that challenges players to use 35 pieces to build words for their teammates to guess. The first team to reach the final lily pad wins.
Awards: 2014 TDmonthly Magazine Top Toy Award 9/24/2014 (Price: $29.99; Age: 8 and up) [Add to my Inquiry Basket][?]



Snake Oil Party Potion by OUT OF THE BOX PUBLISHING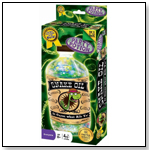 Party potion is the easiest way to get started with Snake Oil. The same crazy fun of the original Snake Oil Game with all new content formulated for children as young as eight years old while still great for the entire family. This edition can be played as a stand-alone game or mixed in with another Snake Oil edition for millions of hilarious new combinations!

6/2/2014 (Price: $14.99; Age: 8 and up) [Add to my Inquiry Basket][?]



CrossWays - The path to victory is not always a straight line! by USAOPOLY


CrossWays™ is a fresh, light strategy game that hooks kids, adults and gamers with its addictive challenges. It's an easy game of playing cards, placing markers, and making paths across the board. But watch out! CrossWays™ is packed with offensive and defensive surprises, and the path to victory is not always a straight line! 2-4 Players or Teams. 15-30 Minutes Play Time. Launch date: Summer 2013 6/6/2013 (Price: $24.99; Age: 8 to 99) [Add to my Inquiry Basket][?]



Catalog Request Form

Writer's Bio:
ALISON MAREK is an award-winning writer, director and cartoonist whose work has been published by Fairchild Publications and DC Comics (Piranha Press), broadcast on Showtime and other cable networks, and viewed worldwide in film festivals. See her short films and print work on www.alisonmarek.com. Watch her nefarious villains in the web series www.MuggsMovers.com. Get inspired by her cartoons "Daily ARFFirmations to Unleash Your Inner Fido" at www.ARFFirmations.com. Phew! And then ...
Read more articles by this author
THIS BANNER IS AN AD:
---
---


Advertisement: