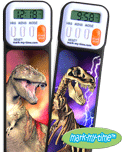 Article Tools:








Top-10 Most-Anticipated Holiday Sellers
Tween Girls Get Stuck on Fashion Angels and Orb Factory
Affected by slow sales and a scary economy, some of the 32 specialty toy-store owners

TD

monthly Magazine interviewed in late October didn't feel they could positively name which products will be their strongest sellers for Christmas. Most had a pretty good idea, though, and their diverse predictions — which also included the ever-popular Bananagrams, the EzyRoller and Bruder Trucks — resulted in the following list:

UPDATE 11/10/08: Barbara Vininsky of Blossom & Harry in Ontario, Canada, was the first retailer to tip TDmonthly onto the frenzy surrounding SpinMaster's Bakugan Battle Brawlers. Now, in addition to Sticky Mosaics by The Orb Factory, what's keeping tween girls occupied, she said, are the Fashion Angels Project Runway kits and the Slumber Party Box of Questions by The Box Girls. And if you haven't gotten Chaotic Cards by 4Kids, you could be missing the year's 2nd hottest boy toy.
.
.
.
.
.
.
.
.
.
.
Catalog Request Form


Advertisement: