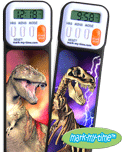 Article Tools:








Summary of Online Toy Reviews
TD Scout Shares Positive Consumer Reviews from Thousands of Websites
TDmonthly Magazine's Review Scout scours the Web weekly for reviews of new and hot products so you don't have to spend your time searching. Out of thousands of blog, retail and other sites, his research uncovers toys, games and other gifts that are worthy of your attention now. Check this space for briefs on reviews and ratings from across the nation and even the globe. See why kids got locked on stacking robots, and how panic might ensue in a game of Panic Tower!
.
.
.
.
.
Catalog Request Form


Advertisement: