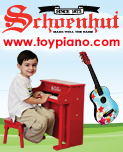 Article Tools:








Top-10 Most-Wanted Toys and Games
Kids Get Ready for Fall with Playmobil and LEGO
Toy sales are experiencing a radical shift as summer turns to fall, an August 2010 TDmonthly Magazine survey of 43 specialty retailers revealed. Indoor classics like Playmobil and LEGO are seeing rapidly growing sales, while outdoor toys are quickly losing steam, with the exception of D & L Company's irrepressible Stomp Rocket. Meanwhile, games from Blue Orange and Mayfair Games are stirring interest as play moves from backyards to living rooms. See the Top-10 Most-Wanted Toys and Games below:
.
.
.
.
.
.
.
.
.
Catalog Request Form


Advertisement: