Tools:








Top-5 Most-Wanted Die-Cast Toys
Classic Schylling and Small Collectible Cars from Mattel Don't Stay Parked for Long
With additional reporting by Brenda Ruggiero, Ashley Heaton, and Pete Fernbaugh

Recently, TDmonthly Magazine spoke to 38 retailers about their sales of die-cast items. Mattel's Hot Wheels and Matchbox lines continue to be a popular for kids to collect and trade, as well as Schylling's hardy die-cast miniature vehicles. The Die-Cast Bus has been a perennial favorite on TDmonthly's top-10 lists as well as its smaller, pull-back sibling.

Some retailers, however, expressed concern at watching the sales of die-cast toys flag over the last few years. "There isn't the demand there used to be," said Karen Park, owner of Zak's Gifts in Manchester-by-the-Sea, Mass.

"We've watched [die-cast] dwindle over the last year, and we're taking a break," said Clifford Jackson, manager of The Wizard's Chest in Denver, Colo.

Nevertheless, kids must have wheels, and some die-cast toys remain classics with well-earned shelf space. Here are the top-5 best-sellers.






With swing-open doors, a working stop sign and details in crisp black, Schylling's Die Cast Bus is an effective miniaturization of one of childhood's most beloved and familiar vehicles. A pull-back motor sends the bus zooming across floors or tables, and the interior is detailed with rows of seats visible through clear windows.

— "The School Bus is always our best seller," said Kim Emigh, VP of e-commerce at

Growing Tree Toys

in State College, Pa., who told

TDmonthly

during a July 2009 survey that Schylling provides her top-selling die-cast vehicles.

— "The best seller in die-cast would be [the] school bus," said Michelle Smith, owner of

Piccolo Mondo Toys

in Portland, Ore.

— Seven of 49 retailers told

TDmonthly

in summer 2009 that school buses are their best selling die-cast vehicles.

— "Oddly enough, school buses are our best-seller," said Terri Bracken, owner of

Earth Explorers Toys

in Zionsville, Ind., when asked about her best-selling die-cast items in July, 2010.

— Four out of 38 retailers specified the Schylling Die-Cast Bus as their top-selling die-cast toy in July 2010.

ToyDirectory Product ID#: 25173

(added 8/28/2009)

.

AD
---






Few vehicles on the city streets captivate children as much as the garbage truck. This big modern semi, detailed at a 1:43 scale and complete with an opening back hatch, lets kids have their very own to drive around the towns of their imagination. The pull-back motor sends it zipping off on its route.

— Eight out of 38 retailers surveyed in July 2010 by

TDmonthly

said Schylling is their top-selling die-cast line.

— "We sell the small cars and trucks by Schylling every day," Grafton Stine, owner of

Toys on the Square

in Hummelstown, Pa., told

TDmonthly

in a 2011 survey.

— Diana Nelson, owner of

Kazoo & Company

in Denver, Col., told

TDmonthly

in a Summer 2012 survey that "Schylling has some of the best die-cast pricing along with Toysmith."

ToyDirectory Product ID#: 30325

(added 8/30/2010)

.

AD
---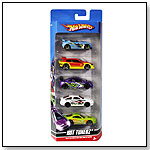 The Hot Tunerz 5-Pack of Hot Wheels cars from Mattel features five different models and five sharp paint jobs on realistic street racing cars. The free-rolling cars are modeled to a detailed 1:64 scale, and are a great starter or addition to a collection of other Hot Wheels cars.

—"You can't have a toy store without Hot Wheels," said Sue Hottel, owner of

No Kidding

in Mattapoisett, Mass., in July 2010.

— Six out of 38 retailers said Hot Wheels are a best-selling item during a July 2010 survey of top-selling die-cast items.

— Gwen Bowden, manager of

Doodlehopper 4 Kids

in Springfield, Va., told

TDmonthly

in a Summer 2011 survey that her best-selling die-cast is "Hot wheel cars, both singles and 5 or 6 packs." She sells about 36 each month.

ToyDirectory Product ID#: 30326

(added 8/30/2010)

.

AD
---






With realistic, modern details shrunk down to a size that fits in the palm of a child's hand, the Service Center 5-Pack of Matchbox cars from Mattel brings the excitement of city streets within reach. Tow truck, fuel tanker semi, heavy duty pickup and the other members of the set are completed with believable branding. Matchbox cars can be collected or traded, and their durable die-cast construction will stand up to plenty of play.

— "[Matchbox] is a good price point for our store," said Mike Snyder, manager of

The Game Place

in Charlottesville, Va. Snyder said his wife refers to Matchbox cars as "reward toys".

— Out of 38 retailers, four said Matchbox cars from Mattel are their top-selling die-cast item, reporting sales averaging 40 per month during a July 2010 survey.

— In a Summer 2012 survey about die-cast toys, Dean Smith, owner of

JaZams

in Princeton, N.J., told

TDmonthly

that they sell about 12 of this Matchbox car 5 pack each month.

ToyDirectory Product ID#: 30327

(added 8/30/2010)

.

AD
---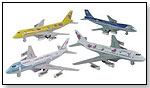 Toysmith's Turbo Jet is a 7" die-cast plane with a powerful pull-back-and-go motor. The doors open and close for added fun. There are four passenger jets to choose from in this line.
— "[We] sell about 100 of Toysmith's [die-cast] planes each month," Fred Rosenberg, owner of On the Park in Kingwood, Texas, told TDmonthly in May 2008.
— Five of 55 retailers TDmonthly spoke with in May 2008 cited Toysmith products as their best-selling die-cast.
— In a Summer 2012 survey, two out of 10 retailers told TDmonthly that Toysmith's die-cast planes were best sellers.

ToyDirectory Product ID#: 13024

(added 5/22/2007)

.

AD
---
Catalog Request Form

Writer's Bio:
Marie Raven has a long history with the specialty toy industry as a family business. In addition to freelancing for TDmonthly Magazine, she writes creative and technical material for various other businesses.
Read more articles by this author
THIS BANNER IS AN AD:
---
---