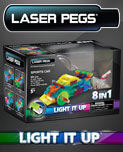 Article Tools:








Top-10 Most-Wanted Die-Cast Toys
Schylling tops this list of inexpensive yet lucrative die-cast toys
With additional reporting from Chris Lundy and Brenda Ruggiero

When TDmonthly interviewed 14 retailers about their best-selling die-cast toys, four said they don't carry any in their stores - but maybe they should. Though often inexpensive, die-cast items can contribute significantly to monthly sales. For instance, Dean Smith, Co-owner of JaZams in Princeton, N.J. said they sell 30-40 Kinsmart School Buses from Toy Wonders each month, which have an MSRP of $6.99. Die-cast school buses in general seemed to be a best-seller for the category, with versions from Schylling and Toysmith also making the Top-10.

You can see these, and all the best-selling die-cast items, below.

No manufacturer paid to be included in this article. All products listed were designated by editorial staff without regard to the company's relationship with TOYDIRECTORY.com/TDmonthly Magazine.
.
.
.
.
.
.
.
.
.
.
Catalog Request Form


Advertisement: