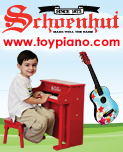 Article Tools:








The Doll House & Toy Store Brings Families Together
Helping Children and Parents Play Is a Passion
Editor's note: When Sari Powazek entered to win TDmonthly's "2012: A Year of Charity" giveaway, it was clear that she had genuine concern for homeless children and families in her neighborhood. Her compassion for them is deepened by having a son who struggles with mental illness and is frequently homeless, owing to his need to feel "free." Here, Sari shares her story about how The Doll House & Toy Store — which is billed as the oldest family-owned doll and miniature store in the nation — contributes to its community and strengthens family bonds:

My husband & I opened our store in Scottsdale, Arizona in 1977. He has a Master's in Finance & I have a Master's in Early Education. The first store was just 600 square feet. We have two locations now.


We believe that our store is an extension of who we are. We enjoy being with children and the toys we carry must have long-lasting educational, developmental and creative value that engage the child in hours of play. We want the parents to be able to enjoy playing with the children also, so many of our games are interesting for various age levels. If you want the family to play together, the teen, tween, kindergartner and parent must find it interesting. There is nothing in our stores that we would not give to our twin grandsons. In fact, they are great toy testers.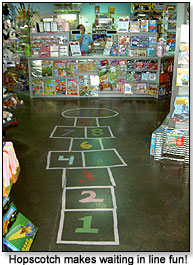 We are part of a great community and we enjoy giving back to the community. We support the local schools with donations for their fundraisers and receiving these 100 toys to donate is wonderful. It allows us to reach out to children's organizations that are deserving of toys to give to the children, such as homeless shelters, crisis centers,etc. Many of these organizations have playrooms, so that some of the toys can be used over and over by many children.

We donate to all of the local schools & children's organizations located near either store. We do give donations of toys frequently to Devereaux School, which is a school located in Scottsdale. It is a residential as well as day school for emotionally handicapped children. We hold three or four events a year. We have been fortunate to be on TV numerous times and to have also won many local awards for "Best Toy Store."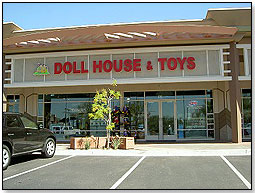 We are excited to be able to give away 100 toys to Devereaux and to the shelter "Casas De Coloinas" plus the Crisis Center for children because these little ones need a bright light. What better way than through music and play? Song always puts a smile on my face and I am sure that it would do so for them. It would help them to escape into a world of beauty and creative play, even if only for a short period in time.

Following are the amazing toys and instruments from Schoenhut Piano Company, Safari Ltd.®, Hape and MagicForest that children in the homeless and children's shelters near The Doll House and Toy Store will soon receive:
Detailed replicas of tropical marine life and a realistic coral reef surround this young diver with a wild underwater adventure. Exquisite sculpting and attention to detail make this the ideal gift for any child. The packaging features educational information in 5 languages on the back. All Safari Ltd.® products are phthalate and lead free and safety tested to safeguard children's health. We take pride in the quality, innovation and design that have characterized our products for over 3 generations. Flippers, Fins & Fun Gift Set Includes: Dolphin, Sea Turtle, Queen Triggerfish, Grouper, Coral Reef, and Freddie the Free Diver. Box Size: 11" W x 4.75" H x 4" D (28 x 12 x 10 cm)
.
Join all the fun down on the ranch with our attractive accessories that complement the Safari Ltd.® Farm collection. Complete with fences, hay, entrance gate and a water trough, this set makes a perfect companion with our Down on the Farm Barn & Stable in addition to our Safari Ltd.® Farm animals. Children can let their imagination roam as they simulate life on a ranch. All our products are phthalate-free and thoroughly safety tested to safeguard your child's health. Safari Ltd.® takes pride in providing breathtaking, innovative and value priced replicas for now over three generations.
.
.
This versatile 25-key piano measures 17" x 12" x 12" and is designed to grow with a child. The main unit, decorated with a whimsical animal's head, sits safely and squarely on the floor within easy reach of a toddler's hands. Later on, the sides with the animal's body can be attached, raising the piano to a comfortable height for an older child seated at the bench. The spacing between the keys is the same as that of a full-sized model, teaching proper finger placement and affording an easier transition to a large piano.
.
This Schoenhut 30-inch Acoustic Guitar is a unique introduction to playing for the aspiring young musician. It offers not only great sound and playability, but an affordable price which is attractive to many first-time players seeking a "better-than-average" beginner guitar.
.
.
String-Along Shapes are first toys that encourage coordination, dexterity, imagination, and simple problem solving. This brightly colored set of 30 maple shapes includes two strings that turn blocks into a train, a caterpillar or a tower. The possibilities are endless and so is the fun. Shapes are approximately 1.25' wide each.
.
This sturdy little dump truck belongs at every construction site. The chunky maple design includes a removable load. The truck measures 4.6" x 2.4" x 3.5". Ages 10 months and up.
.
Everything tastes better when you've got the right accessories. These safe and simple toys revolve around food and cooking, to promote realistic role play, and encourage healthy eating. The Apron Set includes an elasticized chef's hat, quilted oven mitt and bright orange-trimmed apron. The mitt and apron fabric is exclusive to Hape.
.
Music is a wonderful opportunity for little ones to expand their sensory and imaginative personality. Music helps them to understand rhythm and harmony, and also to express themselves and their moods. This set of percussion instruments from Sevi is an easy way to get kids started. It comes with 8 pieces, including a tambourine, castanets, a triangle, maracas and a noise maker. Produced by Sevi, Europe's oldest wooden toy company, this product contains parts and components that are recommended for children ages 2 and up.
.
Noah's Ark Balance Game comes with pairs of brightly painted wooden animals and can be played either cooperatively or competitively by the entire family. Kids learn about weight distribution and how the shape of an object affects where it is able to be balanced. Played against an opponent, kids learn to place animals just so their opponent has difficulty finding a spot for their piece. Pieces are the perfect size for ages 3+. Kids can also work together to see how quickly they can stack all the animals on the rocking ark. Sevi is Europe's oldest wooden toy company.
.
EAD PROFILES OF PARTICIPATING MANUFACTURERS:

SAFARI LTD.
SCHOENHUT PIANO COMPANY
HAPE


READ WINNING STORE PROFILES:

DOLL HOUSE & TOY STORE
JAKE'S TOY BOX
KAZOO TOYS


READ ABOUT THEIR GIVEAWAY PLANS:

KAZOO
JAKE'S
Catalog Request Form


Advertisement: