---
Schoenhut® Stays In Tune With Children's Needs
Charity & Quality Are Two of Company's Top Priorities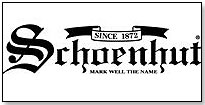 With additional reporting by Sharri Hefner, Greg Rock, Justina Huddleston, and Julia Ann Charpentier

In 2010, Schoenhut Piano Company donated 100 high-quality My First Piano IIs (MSRP: $59.95) to ten children's charities in need with the help of TDmonthly's Charitable Kid contest winner, Kimberly (then 14) of South Carolina.

Thrilled to have the opportunity to help so many other children, Kimberly told TDmonthly, "I love giving out the pianos! It feels good to know you helped someone. It is awesome to see the smile on their faces!"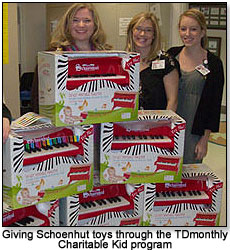 Because charitable giving continues to be a top priority for Schoenhut's owners, Len and Renee Trinca, this year they wanted to give again and were the second company to sign up to TDmonthly's new "2012: A Year of Charity" program. This time, specialty retailers are competing to win the chance to donate to their local children's charities 100 high-quality specialty toys from Schoenhut and other participating manufacturers.

"Our contribution of 100 toy pianos in TDmonthly's 2010 Charitable Kid contest targeting children in need was such a heart-warming experience that we are overjoyed to participate again," said Renee.

"This year, Schoenhut products will include 75 pianos in three styles and 25 guitars. We sincerely hope that colleagues in the toy industry will jump on TDmonthlys very worthwhile charitable bandwagon, providing encouragement and joy to impoverished children."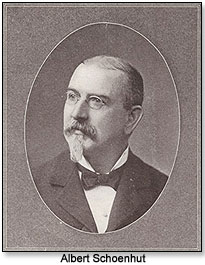 While the Trincas associate charity and good works with the Schoenhut brand, superb quality has been part of the company since its inception in 1872 by Albert Schoenhut, who was just 24 years old at the time. Born to toymakers in Wurtenberg, Germany, Albert was recruited at age 17 by Wanamaker's department store in Philadelphia to repair German toy pianos whose glass sounding bars had been damaged during shipping. Albert soon began designing toy pianos of his own as a sideline in his home, later exchanging the glass sounding bars for more durable metal.

From the beginning, Albert's pianos were more than just playthings; they stayed in tune and came with sheet music that encouraged young children to learn to play. The chime-like tones are produced by small hammers striking precision-ground steel rods.

As his toy piano business grew, Albert added other instruments including a ukulele-banjo, xylophone, and glockenspiel. He also expanded his line with dolls, circus figures, and toys. By the time of Albert's death in 1912, Schoenhut Piano Company® was the largest toy company in America and the first in the United States to export toys to Germany.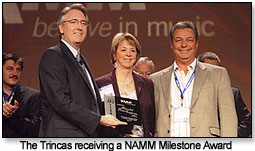 After a succession of owners, Len's brother Frank purchased the company in 1984. Twelve years later, Len and Renee signed on to help expand the business and then quickly decided to make the leap to ownership. Frank acts as a consultant and helps at trade shows.

The company now also produces harps, thumb pianos, guitars, ukuleles, drum sets, and a variety of other musical instruments. Len designs and builds all of the prototypes for new toy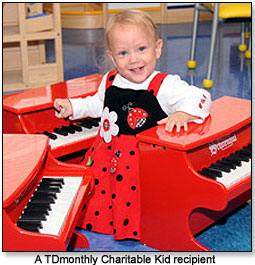 pianos, including the popular Piano Pals™ which "grow" with a child. In addition, the Trincas have recently patented a new interlocking design, with the result being that Schoenhut toy pianos will be the most durable of any others in the industry. Len also designed the revolutionary 44- and 49-key Grand Pianos with tuned strings.

"These professional quality stringed pianos incorporate perfect pitch and true piano sound--the only instruments of that kind in the world," said Renee. "Music teachers are 'ecstatic' to find that their youngest pupils can reach the pedals."

Even their tiniest toy pianos have a quality that is unmatched by the competition. In 2007, Schoenhut participated in TDmonthly's Baby Roundtable review, in which five mothers evaluated My First Piano IIs with their children, aged 1 to 3 years, awarding the instrument 4.5 of 5 stars. They noticed that the piano was sturdier and sounded more authentic than other toy pianos, including one by Melissa & Doug.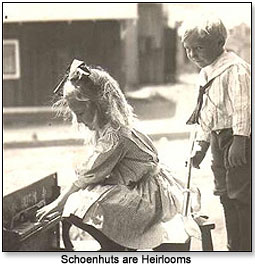 Soon after opening the Schoenhut box, 3-year-old Lucy performed a concert of children's "hits," played with feeling and intensity. When her mom, Penelope, asked if she wanted to take music lessons, Lucy said she did not need them because she obviously could already play piano and sing. Nigel (3) played with a Jerry Lee Lewis style, using various body parts, and cried, "Look Mommy! I'm playing rock and roll!" One mother even gave away the toy piano her child already had, in favor of keeping the Schoenhut.

Many generations of music lovers would understand that last decision. Durable, heirloom-quality Schoenhuts are passed down from parents to children to grandchildren. The company's website is filled with photos of kids both past and present playing their instruments.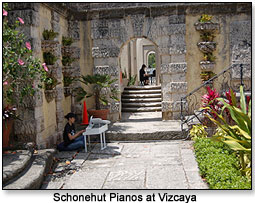 Professional musicians, too, have appreciated the "toy" piano's unique sound since John Cage composed "Suite for Toy Piano" in 1948. Schoenhut features an "Artist Roster" on their site, highlighting a number of renowned composers and performers who regard toy pianos as serious concert instruments. As part of its service to the community, Schoenhut regularly supports these artists; for example, they supplied 64 Concert Baby Grand toy pianos for an enthralling music event at Vizcaya Gardens.

In addition to its year-round charitable giving, Schoenhut will be donating 25 baby grands, 25 Piano Pals, 25 tabletops and 25 guitars to TDmonthly's "2012: A Year of Charity" promotion. Which lucky retailers will win the chance to give away these instruments? Other companies who have already signed up to participate in this landmark event are Safari Ltd.®, Hape, and MagicForest Ltd. Enter for your chance by emailing to alison@toydirectory.com the following information:

1. Your name
2. Store's name, address and phone
3. Year you opened the business
4. Local children's charities you currently work with
5. Number of events you currently hold per year.
6. How many of these events get covered by your local press.
7. Why you would like the incredible opportunity to give away 100 beautiful specialty toys to your local children's charities.

Here are some of the high-quality products Schoenhut and the other companies will be donating to your (or your peer's) favorite local children's charities:







.

AD
---






This versatile 25-key piano measures 17" x 12" x 12" and is designed to grow with a child. The main unit, decorated with a whimsical animal's head, sits safely and squarely on the floor within easy reach of a toddler's hands. Later on, the sides with the animal's body can be attached, raising the piano to a comfortable height for an older child seated at the bench. The spacing between the keys is the same as that of a full-sized model, teaching proper finger placement and affording an easier transition to a large piano.

.

AD
---






This Schoenhut 30-inch Acoustic Guitar is a unique introduction to playing for the aspiring young musician. It offers not only great sound and playability, but an affordable price which is attractive to many first-time players seeking a "better-than-average" beginner guitar.

.

AD
---






.

AD
---






Detailed replicas of tropical marine life and a realistic coral reef surround this young diver with a wild underwater adventure. Exquisite sculpting and attention to detail make this the ideal gift for any child. The packaging features educational information in 5 languages on the back. All Safari Ltd.® products are phthalate and lead free and safety tested to safeguard children's health. We take pride in the quality, innovation and design that have characterized our products for over 3 generations. Flippers, Fins & Fun Gift Set Includes: Dolphin, Sea Turtle, Queen Triggerfish, Grouper, Coral Reef, and Freddie the Free Diver. Box Size: 11" W x 4.75" H x 4" D (28 x 12 x 10 cm)

.

AD
---






Join all the fun down on the ranch with our attractive accessories that complement the Safari Ltd.® Farm collection. Complete with fences, hay, entrance gate and a water trough, this set makes a perfect companion with our Down on the Farm Barn & Stable in addition to our Safari Ltd.® Farm animals. Children can let their imagination roam as they simulate life on a ranch. All our products are phthalate-free and thoroughly safety tested to safeguard your child's health. Safari Ltd.® takes pride in providing breathtaking, innovative and value priced replicas for now over three generations.

.

AD
---






String-Along Shapes are first toys that encourage coordination, dexterity, imagination, and simple problem solving. This brightly colored set of 30 maple shapes includes two strings that turn blocks into a train, a caterpillar or a tower. The possibilities are endless and so is the fun. Shapes are approximately 1.25' wide each.

.

AD
---






This sturdy little dump truck belongs at every construction site. The chunky maple design includes a removable load. The truck measures 4.6" x 2.4" x 3.5". Ages 10 months and up.

.

AD
---






Everything tastes better when you've got the right accessories. These safe and simple toys revolve around food and cooking, to promote realistic role play, and encourage healthy eating. The Apron Set includes an elasticized chef's hat, quilted oven mitt and bright orange-trimmed apron. The mitt and apron fabric is exclusive to Hape.

.

AD
---






Music is a wonderful opportunity for little ones to expand their sensory and imaginative personality. Music helps them to understand rhythm and harmony, and also to express themselves and their moods. This set of percussion instruments from Sevi is an easy way to get kids started. It comes with 8 pieces, including a tambourine, castanets, a triangle, maracas and a noise maker. Produced by Sevi, Europe's oldest wooden toy company, this product contains parts and components that are recommended for children ages 2 and up.

.

AD
---






Noah's Ark Balance Game comes with pairs of brightly painted wooden animals and can be played either cooperatively or competitively by the entire family. Kids learn about weight distribution and how the shape of an object affects where it is able to be balanced. Played against an opponent, kids learn to place animals just so their opponent has difficulty finding a spot for their piece. Pieces are the perfect size for ages 3+. Kids can also work together to see how quickly they can stack all the animals on the rocking ark. Sevi is Europe's oldest wooden toy company.

.

AD
---
EAD PROFILES OF PARTICIPATING MANUFACTURERS:

SAFARI LTD.
SCHOENHUT PIANO COMPANY
HAPE


READ WINNING STORE PROFILES:

DOLL HOUSE & TOY STORE
JAKE'S TOY BOX
KAZOO TOYS


READ ABOUT THEIR GIVEAWAY PLANS:

KAZOO
JAKE'S
THIS BANNER IS AN AD:
---
---