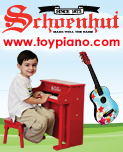 Article Tools:








Children's World Grabs Public Eye With TDmonthly Giveaways
Local Media Followed Their Moves Through Schools and Charities
"We gave out packages of toys to a dozen schools and charities and the response has been amazing"
— Tim Holliday, Children's World



Tim and Cynthia Holliday of Children's World in Sarasota Florida used their considerable expertise in publicity and marketing to capitalize on winning TDmonthly's 2012: A Year of Charity promotion.





As soon as the Hollidays won the contest, their local newspapers and TV stations were alerted. The press picked up on the story (see Figure 1), letting readers know that four generous companies — Schoenhut Piano Company, Safari Ltd., Moonjar and Douglas Cuddle Company — had each donated at least 100 toys to two winning retailers to distribute to neighboring children's charities ... and one of those winners was Children's World.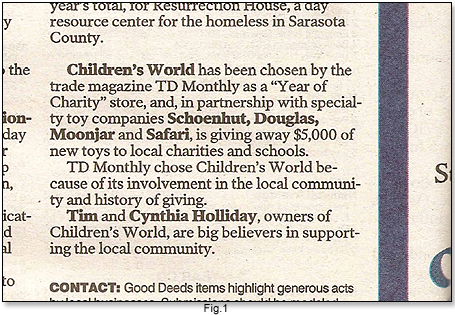 Customer Won, Too

"We involved the public, by giving them a chance to win a small selection of the toys, and get to name their favorite school or charity that we will donate a matching set to," explained Tim.

Their local news station, SNN, covered both the TDmonthly win and the in-store drawing. Video that aired showed the tempting charity end-cap (see Figure 2) several times, with products by Moonjar, Douglas Cuddle Company, Safari Ltd. and Schoenhut Piano Company clearly visible.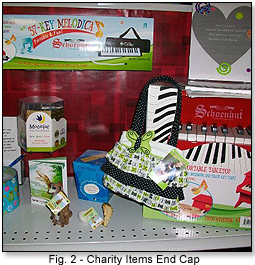 The Hollidays collected more than 100 entries for the drawing, which took place at the beginning of February. The lucky winner, Renee Yoder, donated her prize to Mothers Helping Mothers.

"It's a charity that has no paid employees, and runs on volunteers to help fellow mothers," explained Tim. "Last year, they helped 2,700 families, representing 6,700 children."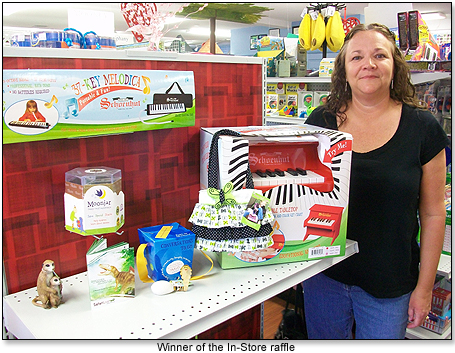 Schools and Charities Are Thrilled

Because Tim and Cynthia sell school uniforms as well as toys at Children's World, they donated a good portion of the educational items, such as the Conversation Starters, Moonjars, Safari Ltd. figurines and Schoenhut Piano Company instruments to local schools. It was a wonderful way, too, of extending publicity for the store and the manufacturers past the charity-crammed holiday season and into the next school term.

"We gave out packages of toys to a dozen schools and charities and the response has been amazing," Tim told TDmonthly. "Everyone is so appreciative. One school was just starting a music program for their elementary group (they already do middle school), so the [Schoenhut] items were right up their alley.

"Another school is planning on sharing the Conversation Starters, Moonjars and Safari Ltd. creatures between classes, and having students discuss and possibly even write about them."

Most of the Douglas Cuddle Toy purses with stuffed animals were donated to the local Fire Department (read PDF thank-you letter), who will use them to calm children during fires and on ambulance rides.





Another local charity that received toys and instruments from Tim and the generous donors was Forty Carrots Family Center — a nonprofit organization dedicated to strengthening families through educational programs for parents, children and professionals in the field.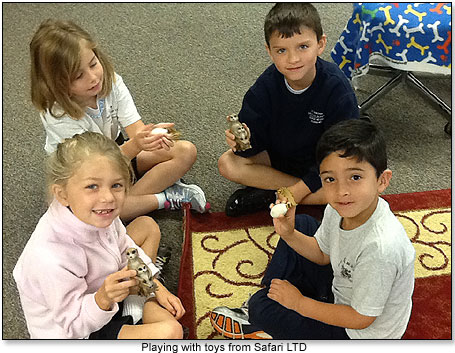 Continuing Coverage

The more than 200 toys and instruments have been distributed to all of the charities and schools, but the publicity keeps on coming, said Tim. Their local CBS station filmed the kids in the charities playing with donated toys.

"We have a minute and a half as the featured story on the 'Making A Difference' segment of the 6PM news Friday [February 28]," concluded Tim.

See the video here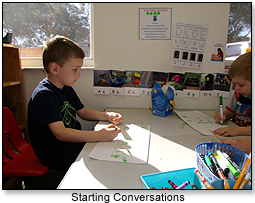 Your Store May Be Next …

And stay tuned for another Charity event – this one to help manufacturers before the ASTRA Marketplace and specialty toy stores before summer.

This is a labor and resource-intensive program so we can manage no more than 10 manufacturers and four stores. If YOU want to be the next charity recipient, write to Alison@toydirectory.com and tell me WHY. Include when your store was founded, how many events you hold per year, how many of those are covered by the media, and what kinds of charities would benefit from the donors' generosity. Good luck! The contest ends March 28.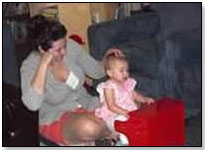 Here are the amazing toys that Schoenhut Piano Company, Douglas Cuddle Toy, Safari Ltd. and Moonjar donated to brighten the lives of Sarasota's needy kids:
Our action packed swashbucklers will delight the imagination of any young matey. Sculpted by a leading American character sculptor, our pirates are so life-like that they will transport kids back to the days of pirate ships and sunken treasures.
.
In celebration of our tenth anniversary, Moonjar has created a brand new Moneybox with a global twist. Each metallic section is wrapped in the words, "Save, Spend and Share" in languages from around the world. The boxes are gold, silver and copper colors to appeal to the tween set as well as their parents.
.
Little rock star swill take center stage playing Schoenhut's "next generation" guitar. Schoenhut's innovative design incorporating a molded composite body with dual curves greatly enhances sound and durability. The birch soundboard which offers excellent tone and resonance, hardwood neck (for rigidity), and molded composite fretboard ensure proper height and spacing of the frets. Six steel strings permit a wide range of rich sounds. Available in several vibrant designs. Includes: Pick and Extra String.
.
.
Twinkle Tunes features a 1-octave (8-note) keyboard that electronically produces lovely piano sounds, complete with a beautifully illustrated songbook containing a collection of 12 familiar tunes. Easily portable for young children, this unique toy provides hours of musical fun. Battery included.
.
Schoenhut's Thumb Pianos are sure to be a hit with the young set. These percussion instruments, also known as Marimbas, emit warm, resonant tones by striking the ends of the tines with your thumbs. Simple tunes are easily tapped out, with unlimited possibilities for creating complex melodies. The new design incorporates a durable molded composite back, resulting in enhanced sound and durability. Easily portable and fun to play, a Schoenhut Thumb Piano is the perfect choice for encouraging children to enjoy music. Available in several vibrant designs.
.
Our keepers are more than just "cleaner-uppers". They show nurturing in action. Each replica is finely hand painted and accurate down to the last detail. Educational information in five languages is included with each replica. All our products are phthalate-free and thoroughly safety tested to safeguard your child's health. Safari Ltd.® takes pride in providing breathtaking, innovative and value priced figures for now over three generations. Featured is our Safari Ltd.® People Joe & Aussie Zookeeper.
.
Extra large, soft, playful, true-to-life vinyl replicas of some of the most amazing creatures in the world. Excellent learning tool to introduce young children to our delicate and often endangered inhabitants of our planet. A fun way to spark the innate curiosity of a child. Each replica is finely hand painted and accurate down to the last detail. Educational information in five languages is included with each replica. All our products are phthalate-free and thoroughly safety tested to safeguard children's health.
.
Catalog Request Form


Advertisement: