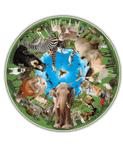 Action Figures

Most-Viewed and Related Articles:
Action Figures




Most-Viewed Articles (last 12 months)





1.
Action Figures in the Doldrums
Action Figures represent about 6% of the U.S. toy market and are completely dominated by Hasbro. This is how the picture has developed since 2007...

11/1/2013










---





Additional Articles (from most recent)





1.
Action Figures in the Doldrums
Action Figures represent about 6% of the U.S. toy market and are completely dominated by Hasbro. This is how the picture has developed since 2007...

11/1/2013














6.
TDmonthly's Toy Fair Videos: Dolls, Plush, and Figures
TDmonthly Magazine was at Toy Fair, scouting out the newest toys and hottest trends of 2013. Our videographer captured these new toys on tape, so that retailers who couldn't visit their booths can still get a taste of what these new toys have to offer...

3/1/2013






7.
Movies and Toys 2013
Movies are big business. Here are the box office estimates over the past few years...

2/1/2013






8.
Activision Skylanders vs. Disney Infinity
Activision/Blizzard, the world's largest provider of video games, has been in the news lately. Firstly, their Call of Duty: Black Ops II game was not only the #1 game for the month of December; it was the #1 game for the whole of 2012. Secondly, their 2011 entry Skylanders has just broken the $500 million barrier at U.S. retail...

2/1/2013






9.
Safari Ltd® Supports Miami Children's Hospital Foundation's Holiday Toy Drive
PRESS RELEASESafari Ltd®, a worldwide distributor of quality, hand painted animal replicas, donated more than 2,000 of its toys to Miami Children's Hospital Foundation's annual Holiday Toy Drive last week.The Holiday Toy Drive benefits children spending their holidays in the hospital. On Christmas morning, patients will wake up to a...

12/1/2012










12.
Top-4 Most-Wanted Action Figures
When TDmonthly Magazine asked specialty retailers about their best selling action figures, seven out of 10 said they don't sell them at all...

9/1/2012








14.
QUO VADIS HASBRO?
Hasbro, the world's second largest toy maker, is encountering very choppy waves. Firstly, the Battleship movie sank without a trace and with it, their latest hope to rescue the Board Games business. Secondly, G I Joe went AWOL into 2013, further weakening their 2012 movie offering. Meanwhile, their preschool business is facing a massively strengthened Fisher Price. What does this all mean for their business this year and in 2013?...

6/1/2012






15.
Hasbro Strikes Back: Q&A with Wayne Charness, SVP of Corporate Communications at Hasbro
In light of the recent sharp downturn in Battleship movie audience numbers and the postponement of GI Joe into next year, analyst Lutz Muller decided to dive deeper into Hasbro's prospects for 2012 and beyond — and what he found wasn't pretty. Of course, there are two sides to every story, so Muller reached out to Wayne Charness, senior vice president of corporate communications at Hasbro, to hear his take...

6/1/2012












19.
Top-7 Most-Wanted Action Figures
When TDmonthly Magazine interviewed retailers for a Summer 2011 survey about best-selling action figures, four out of the 14 said that figurines from Papo were their best-sellers...

9/1/2011






20.
Solving the Mystery of Composition Soldiers, Part II
The composition of Playwood's soldiers consisted of triple zero wood flour from Wisconsin (very fine-ground, almost like talc), 20 Mule Team Borax, unbleached white flour (condemned by food inspectors who had marked the inedible flour with chicken blood), and water...

9/1/2011










23.
Top-5 Most-Wanted Action Figures
A June 2010 survey conducted by TDmonthly Magazine found that 34 percent of specialty toy retailers don't stock figurines based on popular characters...

9/1/2010






24.
Holiday Preview: Action Figures and Animal Replicas
Warriors, fairies and plain ol' folk from popular action-figure lines Safari Ltd., Schleich and Hotaling Import's Papo give kids plenty of opportunity to create their own imaginative scenes. And Pretty Ugly's rolled out a pretty cute new series of wonderfully quirky Uglydoll figurines. See TDmonthly's Holiday Preview of Action Figures...

6/1/2010





Featured Products in TDmonthly Magazine:
Action Figures

Safari Ltd® was inspired in 1979 by an endangered species card game that my parents Bernard and Rosemarie Rubel discovered while visiting the Munich Zoo in Germany. Fueled by their passion to educate through the joy of play, my parents transformed that rummy game into a collection of museum-quality figures enjoyed by children, adults, educators and collectors alike.As we grew, we signed license agreements with Carnegie Museum of Natural History and the Monterey Bay Aquarium® in 1986 and 1994. These licenses established us as a...

More information on SAFARI LTD.® products.
Since 02/01/05 people have visited this page.

Advertisement: