---
Retailer Spotlight: Golden Apple Learning Store
Selection and Staff Make Toy Shop a Match for Teachers and Kids
"We spend half our time taking things out of customers' carts because they are inappropriate for their kid's age or development." — John MacDougall, Golden Apple Learning Store

When Barbara Hartman MacDougall opened The Golden Apple Learning Store in San Ramon, Calif., 30 years ago, "teacher supplies were undergoing a major format change from dry, textbook-style materials to bright, fun and consumer friendly," her son John told TDmonthly Magazine.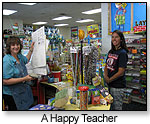 "She found that some toys fit in with the product mix" at the teacher supply store, and John "helped her start a second store in Pleasanton that was more oriented to parents."

LEARNING TURNS FUN

As more toys were added, he added "learning store" to the shop's name, which gave him the freedom to try different things.

"We wanted our customers to distinguish us from the average shopping mall toy store and the dry, boring school-supply store," he said. "We had toys that were unique and unbranded, and not available at other stores."

But having unique product didn't attract customers alone.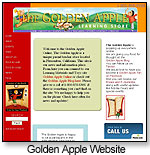 "We're a suburb of San Francisco, and the media market is not weighted toward small, independent businesses," John said. "We located our stores in out-of-the-way places because that was the model for a teacher store. The combination of no easy advertising and no foot traffic made it a challenge to draw new customers."

BEFRIENDING COMPARABLE BUSINESS

Since then, they've learned to select locations better, in part because of what John observed in the Grand Bazaar in Istanbul.

"I lived there for a while and was fascinated … that all the merchants in a particular line of product put their shops side by side … a different idea of competition. When we moved to our current location, we had a hard time convincing the store that was already in the center (a stationery store) that we would be a draw for them," he told TDmonthly. "They held us up for a long time, but eventually allowed us in."

Many parents shop at the Golden Apple as a result of recommendation from teachers, who are themselves drawn to the store by "events … that keep them excited about our store," John said, as well as a broad inventory to suit their needs.

"Teachers are professionals. They know exactly what they want, and are loath to accept a substitute," he explained.

LETTING POINT OF SALE SPEAK

Such particular demand has caused problems with turn ratio, though — especially with online shopping factored in — and it took the store a few years to find a workable inventory balance overall.

"We could have adjusted much faster," John admitted. "I should have listened to my POS. Many items that we dropped should have been dropped long ago, but I failed to believe what my sales reports told me. The good news is we stayed in business, while many teacher stores have not. Now, I don't argue with the numbers. If I only sold four last year, it's gone."

GOOGLE ADS AD UP

Most of the Golden Apple's advertising dollars go into its Web presence. John expressed satisfaction with targeted Google ads in particular, which he has used for several years with good results.

"Google ads are less than half of what we were spending for Yellow Pages," he said. "They also give me information on what works. The feedback available and the flexibility of online advertising is revolutionary."

Although he doesn't have a budgeted advertising number, John noted that he keeps a "vague 3 percent of net figure" in his head. He does a holiday catalog and considers his website an advertising figure first. Other than that, he doesn't buy much traditional media advertising.

MATCHING TOYS AND CUTTING COSTS

The Golden Apple beats its competition because John and his staff know what works educationally, he told TDmonthly, and they are able to match products to customers' needs.

"We spend half our time taking things out of customers' carts because they are inappropriate for their kid's age or development," he said. "We are very adept at meeting customers' needs with the items in our store. With toys, we don't have many brand names, so most customers expect us to match a toy to a child without any preconceptions."

The staff of 12 employees is encouraged to specialize, such as working at the register or on the floor.

"Some of our best people didn't interview that well," John said, noting that an applicant who "answered 'whatever' to almost every question we asked … ended up being one of our most unflappable, reliable employees."

To keep moving ahead in the rough economy, the Golden Apple has cut costs by focusing on minimum inventory levels and just-in-time deliveries.

"We have let our storeroom empty and have focused on selling items we have in stock, rather than adding new, similar items," he said.

Writer's Bio:
Brenda Ruggiero is a freelance writer from western Maryland.
Read more articles by this author
THIS BANNER IS AN AD:
---
---