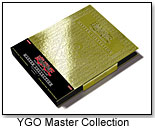 Yu-Gi-Oh! TCG Master Collection Set ($39.99, Ages 8 & up) by Upper Deck Entertainment.
This gift set will light up the eyes of any player or collector of the red-hot Yu-Gi-Oh! trading card game. Presented in a stylish gold Egyptian-themed binder, it features one booster pack from each of the first six expansion releases — Blue Eyes White Dragon, Metal Raiders, Magic Ruler, Pharaoh's Servant, Labyrinth of Nightmare, Legacy of Darkness — packs valued at up to $7 each by the popular price guides and often unavailable for purchase at retail stores.
Further enticing the buyers and enhancing the value is the six variant ultra-rare cards included, counting such sought-after rarities as the head of Exodia the Forbidden One, Barrel Dragon, Relinquished, Thousand Eyes, Dark Necrofear, and Dark Ruler Ha Des. This is a chance for Yu-Gi-Oh! players late to the party to sample what they've missed and improve their collection.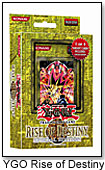 Yu-Gi-Oh! Rise of Destiny Expansion Set ($3.99 per booster pack, Ages 8 & up) by Upper Deck Entertainment.
The most recent expansion for the Yu-Gi-Oh! trading card game, the Rise of Destiny Set comprises of 60 cards and features nine new Machine-type monsters. The expansion bridges the past with the present, as many duel monsters return with a new makeover and expanded abilities, from Mystic Swordsman to Ultimate Insect LV3.
Certain popular strategies, such as "Harpie Lady" decks, receive a boost here, as well as anti-Trap monsters to specifically combat opponent's Trap cards. Aside from adding to a Yu-Gi-Oh! player's arsenal, this set has extra appeal because the cards are concurrent with the animated series. Players can build game decks full of the creatures and spells from Rise of Destiny to mirror what they see on television.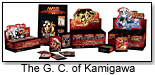 Magic: The Gathering Champions of Kamigawa ($9.99 per starter deck, $8.99 per theme deck, $3.69 per booster pack, Ages 12 & up) by Wizards of the Coast (ToyDirectory).
The world's first and best-selling collectible card game finally gets a distinctively Asian-themed set for American distribution.
Like the "blocks" before it, Champions of Kamigawa is the first of three expansions that will chronicle an era of a world in the multi-planar mythos of Magic: The Gathering. The setting is inspired by late 15th-16th century feudal Japan, the warring Sengoku period. Gameplay features an innovative "journey" mechanic, where ordinary creatures can turn into legends thereby becoming more powerful. This is done by "flipping" the cards 180 degrees after fulfilling the indicated conditions to show an entirely new statistics block — essentially, these are "double" cards!
This and other innovations, combined with the fantasy Oriental background, have already made Champions of Kamigawa a favorite among Magic players since its recent release.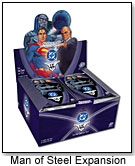 Vs. System DC Comics Superman, Man of Steel Expansion ($3.59 per booster pack, Ages 12 & up) by Upper Deck Entertainment.
This expansion features the allies, nemeses, events, and the comic-book icon himself — Superman, the Man of Steel — for the Vs. System trading card game, which just wrapped up the second $1 Million Pro Circuit stop at Gen Con So Cal in Anaheim, Calif. this December.
Characters staple in the Superman lore such as Jimmy Olsen, Supergirl, Lex Luthor, Darkseid, plus new characters from teams introduced in the DC Comics Origins game, are part of this 165-card expansion set. Featuring illustrations by a cadre of elite pros (Jorge Lucas, Jae Lee, et al.) and a new card mechanic ("Cosmic") to bring out, well, cosmically powerful heroes, this set is a must-have for die-hard fans of the game and the Man of Steel.