The homeschoolers glimpsed the immensity of the solar system when using Rob Walrecht Productions' Solar System Model. Moms gave it galactic scores for learning value. "All of the toys were great this month," raved Lynn Costine. The Webkinz by Ganz got the kids feeling computer-friendly and Tedco's (ToyShow) Watery Science taught them more about H2O than they ever thought they'd know.
Participating were former teacher Lynn Costine with Sarah (12 years), Anna (10), Emily (8) and Will (6); former business owner Julie Petoia with Cabot Lee (11), Talia (9) and Malynne (8); Susan Ledford, editor of the Homeschoolers Resources Directory, with Victoria (10) and Joe (6); former corporate workshop manager Shawna Hughes with Alexa (10); and former fashion consultant, current radiology student Allison Seagle with Sara (11). (Click here to view the numerical results of the survey: Homeschool Families Rate Toys.)
Solar System Model and Planisphere
by
ROB WALRECHT PRODUCTIONS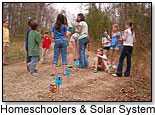 "The Solar System Model was really useful," said Petoia. "The kids did it altogether in a group and hammered in the sticks. The planets started out close, and then got further and further and further away from each other. The last one was 40 miles away and they thought it was insane! It made it real to them."
"My kids couldn't believe how far apart the planets were, and they were amazed," agreed Costine, who'd set up the planets on a dirt road on her property for the homeschooling group. "It looked really cool. They'd do it again, just to see the cards up."
"I didn't know that the comets and the sun were that far apart!" exclaimed Victoria.
"How far is the next one?" wondered Joe.
"The punch-out cards are easily removed," noted Hughes. "The information on the cards is interesting and very well laid out."
"The instructions were very easy for the children to follow," added Ledford. "The Planisphere was more complex and adult help was needed." Costine agreed; her kids weren't able to assemble it correctly by themselves
"The Solar System Model has a good concept," continued Hughes, whose daughter nevertheless grew weary of placing the planets. "It is really more of a learning tool or curriculum expansion than a toy."
Ledford agreed, calling it "interesting (and desired!) as a curriculum lesson." Costine plans to take out her planets in a year and a half, so the kids can set them up again.
Ledford thought the model could be improved by including trivia cards on the planets and stars. She also suggested that play might be maximized by including instructions and supplies to make models of the Milky Way.
Webkinz
by
GANZ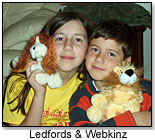 Costine had been looking forward to the Webkinz because she was hoping it would help her girls become more interested in computer use. Did it work?
"It totally did!" she exclaimed. "Sara installed hers and Emily's, and Anna installed hers and Will's. Sara said that it was simple enough that Emily (8) could have installed it herself."
"The Webkinz were very popular at our house," agreed Ledford.
"The animal itself is very cute and well constructed," added Hughes. "The Web site is a safe place for kids to go play while online. Alexa learned how to log into their Web site and how to choose a password, both of which she had never done. She is learning by playing the games on the site."
Petoia's kids appreciated being able to invite their friends into their pets' rooms and play games with them online.
"I like the variety of activities, and that they are interactive," said Victoria. "Webkinz exercises real-life skills such as balancing money, shopping and 'earning' money."
"Cool! You can make money from Quizzies. This is so much fun. I like picking out things for my room!" said Alexa.
"Emily and Will liked doing things for their pets, such as shopping and setting up the rooms," said Costine. She noted that Emily and Anna were still going online to play the Webkinz games.
The moms said their kids would probably request another pet, and already had at the Ledford home. Ledford suggested that different versions of the games be developed for kids of varying skills levels.
"This is a cute, good quality toy with a very interesting idea," commented Hughes. "I think Alexa will enjoy playing on the Webkinz site quite often." (Click here to read more on Webkinz.)
Watery Science
by
TEDCO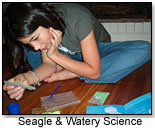 "Kits that have all the necessary items in one box are always welcome at our house," said Ledford. "This was a terrific science kit. The experiments were fascinating to the children and adults."
"Wow! Come here and look at this sand! This is so cool!" exclaimed Alexa.
"My girls wanted the little alligator to shrink right away in the sun, but they liked it and did it very independently and then modified the kit it to do some of their own experiments," said Petoia. What kind of experiments? "Things involving water and my table. But it piqued their curiosity. That's the nice way of putting it!"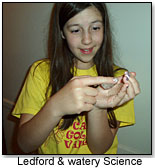 "The instructions were so easy to understand that no adult assistance was necessary at all," said Victoria. "The experiments were simple and short but they explained a lot, and explained it well."

"Alexa liked the waterproof sand. She could do the projects herself," commented Hughes. She added that it would be great if the kit could teach about more than one concept of water and included extra sand for sculptures.

Costine said her two oldest girls already knew the information in the kit, but she was still impressed with it. "Will could do all of the experiments himself," she said. "It was well packaged and well presented."

Ledford thought the kit was great as is, though she would have appreciated refill bags of the supplies. "Watery Science made a big splash at our house!" she said. As a curriculum, the children loved it. As a toy, they also loved it."

Here are the toys that taught the homeschoolers this month, plus a few extra toys by the same companies:

This unique model consists of 16 cards: for the Sun, the planets, the Moon, asteroids, comets, the Voyagers and "ice dwarfs". They are in fact a concise encyclopedia of the Solar System! But more importantly it is a scale model (scale 1:100 billion). They provide, when completely placed, the best possible representation of the distances within our own Solar System and the emptiness of space. The complete model when placed up to Pluto is 194 feet/59 m long. There are English versions for the US (with inches and feet) and with metric units.

.

AD

The planisphere is the perfect way to learn how to recognize stars and constellations. Every planisphere is designed for a certain latitude zone. The PLN-40 is designed for 40° north, which is good for most of North America (but also, for instance, Southern Europe, as well). The very accurate PLN-40 includes 700 stars and 300 "deep-sky" objects, some useful tips and features, Right Ascension and Declination.

.

AD

Elephant Webkinz is a velvety soft pet about 8" long. Check his hantag for a secret code that brings him to life on the Web. Using the Webkinz site, kids can adopt their pet and create a virtual world for him, too. By earning Kinzcash through playing arcade games and answering trivia quizzes, kids can design rooms, buy furniture and clothes and take their virtual pet to Dr. Quack for a check-up. Each pet has its own unique characteristics, so even if kids only collect the Webkinz Lions, for instance, each online counterpart will have different likes and dislikes from the other. There are 25 Webkinz and new ones are being created constantly, said Ganz spokesperson Susan McVeigh. Lil'Kinz ($7.50), smaller sisters and brothers to Webkinz, are also available.

.

AD

.

AD

Kids can perform 4 weird watery experiments titled Waterproof Sand, Thirsty Diaper, Thirsty Cup and Hydro Grow Creatures. The kit includes Professor Ein-O's I Know Guide as well as all necessary supplies.

.

AD